Volkswagen Reveals its Taigun Concept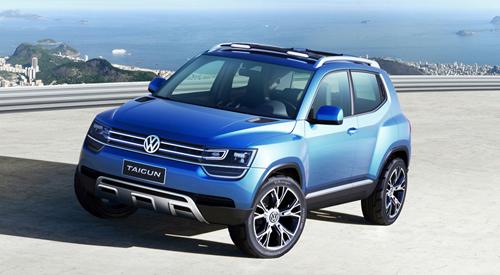 No, it's not a typo — it's Taigun, not
Tiguan
. VW took the wraps off the compact SUV concept at the Sao Paulo Motor Show in Brazil. Smaller than the automaker's tiniest crossover, the Tiguan, the Taigun concept likely previews Volkswagen's intentions for its next crossover.
It rides on a version of the Volkswagen Up! platform, a Europe-only micro car. The front-wheel-drive concept is around 151 inches long, which is much shorter than the Tiguan's 174.5 inches. Power comes from a 110-horsepower, turbocharged 1.0-liter three-cylinder with direct injection. It's paired with a six-speed manual transmission.
Outside, it's an even blend of Tiguan and Touareg styling, borrowing cues from both. It departs from the Tiguan's cute-ute style, however, with its chunky-looking body, bulging fenders and rugged side cladding and roof rails. The concept sports a clamshell tailgate — the top section swings upward and the lower third comes down.
Inside, VW says there's 34.9 cubic feet of cargo space with the seats folded; the Tiguan's maximum cargo volume is 56.1 cubic feet.
Volkswagen has not confirmed production plans for the Taigun, and if it is made, it probably won't make it to the U.S. "The Taigun is just a concept and production hasn't been confirmed. As the concept rounds out the small family of Volkswagen vehicles, currently not available in North America, the Taigun isn't under consideration for the U.S. market," Volkswagen spokesman Corey Proffitt told Cars.com.
Clicking on any image below will launch a larger photo gallery; you can browse through them by hitting the right and left arrow keys.
Related
Research the Volkswagen Tiguan
Say It Ain't So: Volkswagen Says No to Bulli Van
More Volkswagen News on Cars.com