2013 Fiat 500c Abarth at the 2012 L.A. Auto Show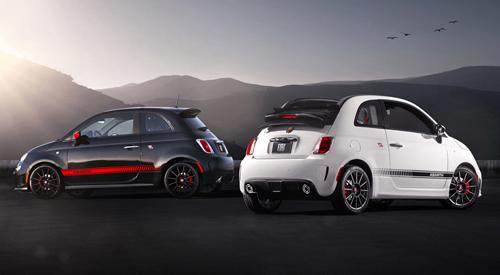 Competes with: Mini Cooper S and Volkswagen Beetle Turbo
Looks like: A 2012 500 Abarth with a cloth top
Drivetrain: 160-hp, turbocharged 1.4-liter four-cylinder
Hits dealerships: First-quarter of 2013
With the new Fiat 500c Abarth, the Italian automaker aims to rev up the convertible model by offering a race-inspired Abarth version.
More 2012 L.A. Auto Show Coverage
The new cabrio model joins the coupe, convertible and original 500 Abarth iterations in Fiat's continued expansion of the 500 brand. The 500c Abarth retains the 2012 high-performance hatchback's 160-horsepower, turbocharged 1.4-liter four-cylinder engine, which uses a five-speed manual transmission. That's in addition to lowered ride height, a track-tuned suspension, dual exhaust, larger brakes and wider tires.
The power-operated cloth top retracts up to the rear spoiler while the car is moving at speeds up to 60 mph; up to 50 mph, the roof will fully open and tuck neatly behind the rear head restraints, Fiat says.
While the exterior and interior design continue the clean, simple styling objectives of the original 500 Abarth, new for 2013 is the Beats by Dr. Dre audio system.
No pricing information has yet been released; the 2012 500 Abarth coupe starts at $22,700, including a $700 destination fee. Like last year's hatchback, the cabrio's price includes a day of driver training from Richard Petty Driving Experience instructors.
Clicking on any image below will launch a larger photo gallery; you can browse through them by hitting the right and left arrow keys.