2013 Honda Civic Sedan: Up Close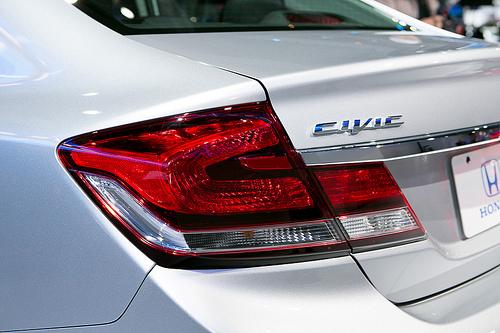 As we've already reported, the 2013 Civic sedan has been upgraded dramatically just one year after its complete redesign. Of all the changes, it's the exterior styling and interior quality we were the most anxious to check out.
More 2012 L.A. Auto Show Coverage
The Civic is the best-selling compact, and it took second place in our recent compact-car Shootout, but as we've detailed in that test and my original review, Honda could have taken things much further. And for 2013, they certainly did; to excellent effect.
The new bumper treatment and taller, sculpted hood make it a far more interesting-looking sedan. Around back, the taillights have expanded inward to the trunk lid — a classier design to behold and a more expensive design to include. The change addresses one of my complaints about the 2012, along with many others laid out in my review. (I'm not claiming credit here ... or am I?)
The main event is the interior. There are more soft, low-gloss surfaces and sparing use of silver-colored plastic. Most of the hard panels have a dark textured surface that works well. Note that the car I checked out is a higher trim level, the EX, but not an EX-L, where the L would stand for leather. The new seat fabric is more contemporary and an improvement overall, but it has a slightly glittery look to which some are sure to object.
The upper door panels where you might rest your arm aren't super cushy, but they are definitely softer.
Other problems Honda has addressed include 2012's reversion to a mouse-fur headliner (now back to woven cloth) and elimination of the hodgepodge of interior textures. It's much more uniform and higher quality. Even the underside of the trunk lid is covered — rather than exposed sheet metal — in all versions; it's not segment exclusive or anything, but it's a no-brainer for any serious manufacturer. In 2012, Honda briefly lost its brain.
Apart from the many feature additions detailed in the other report — including a standard backup camera — the changes are mostly aesthetic, so you have to see the 2013 to appreciate how good it looks. We maintained it was a very good car even after the 2012 changes. At first blush, for 2013 it looks like a great car.