2013 Honda Crosstour: First Look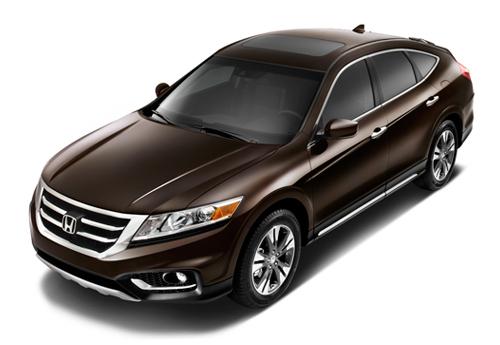 Competes with: Toyota Venza, Subaru Outback,Nissan Murano
Looks like: A more-lovable-looking Crosstour with some Accord design influence
Drivetrain: New 3.5-liter V-6 with six-speed automatic
Hits dealerships: Tuesday,Nov. 20
Perhaps the most remarkable thing about the 2013 Honda Crosstour production model is that there's so little distinction to be made between it and the concept version that debuted at the 2012 New York Auto Show. Even then it was clear that this concept was only a concept, well, in concept.
Needless to say, there's not a lot to talk about in terms of brand-new features on the 2013 Crosstour, which goes on sale Tuesday — except that its base price of $27,230 is $525 less than it was in 2012 (Honda has not yet listed the car's destination fee).
Concept-car aesthetics that have made their way to the production model include more rugged exterior styling thanks to a redesigned front end and new grille. It also gets new bumper fog lights, front-diffuser designs and Accord-inspired exaggerated lower-front-intake flares. The rugged look is achieved with black composite plastic along the sill plates and front and rear bumper edges. Newly available paint colors include Kona Coffee Metallic and Mountain Air Metallic.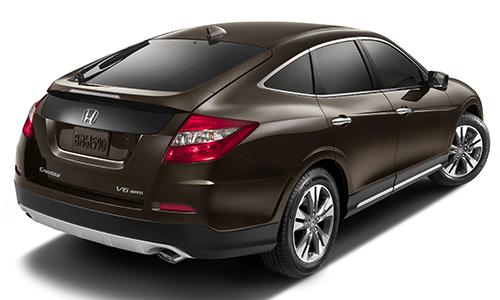 Engine upgrades for 2013 improve both power and fuel-efficiency. A newly available 3.5-liter V-6 engine with a six-speed automatic transmission, which can run on three or six cylinders depending on load and speed, ups horsepower from 270 horsepower to 278 hp. Honda estimates that two-wheel-drive V-6 models should get a city/highway combined 23 mpg, a gain of 2 mpg over last year's version. The Crosstour's four-cylinder carries over unchanged.
A full features list hasn't been released, but Honda says the 2013 Crosstour's interior is updated in both design and materials. New features include an 8-inch display, backup camera, keyless ignition and paddle shifters. Standard features include an auto-dimming rearview mirror, automatic headlights, Bluetooth connectivity and USB inputs. Crosstour EX-L models offer additional features such as leather-trimmed, heated seats, internet radio compatibility and satellite-linked navigation.
Improved safety features carried over from the concept car include forward collision and lane departure warning systems, blind spot camera display, a rearview-mirror camera, reshaped rear head restraints and an expanded-view driver's mirror.
Related
Honda Crosstour Concept at the 2012 New York Auto Show
2012 Honda Crosstour: Ch-Ch-Changes
More Honda Crosstour News on Cars.com