2014 Chevrolet Spark EV: Up Close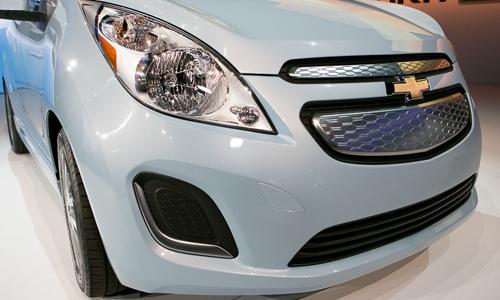 Chevrolet's electrified version of the Spark micro-car will look nearly identical to the gasoline version when it goes on sale in summer 2013. Mildly tweaked front styling with a blocked grille for aerodynamics and an electric charge door are two giveaways on the exterior that there is something unique powering the wheels.
More 2012 L.A. Auto Show Coverage
Inside, there are two 7-inch screens to keep tabs on the electric stats, and the newfound lithium-ion battery pack makes its home under the backseat.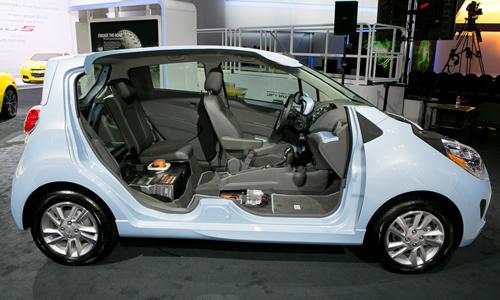 The Spark EV isn't completely identical to the gasoline-powered Spark, with battery placement taking away some backseat and cargo room. A Chevrolet representative tells us the rear seats are raised to accommodate the battery pack, and while sitting in the back, my head skimmed the headliner. I'm 6 feet tall and wouldn't want to be riding in the rear over a rough road.
Preliminary cargo room specifications show total volume with the rear seats folded is down from 31.2 cubic feet to 23.4 cubic feet. With the seats up, there's just 9.6 cubic feet of cargo space, which is down from 11.4. The good news is the folding seat function is retained even with the battery pack to keep the classic hatchback usability.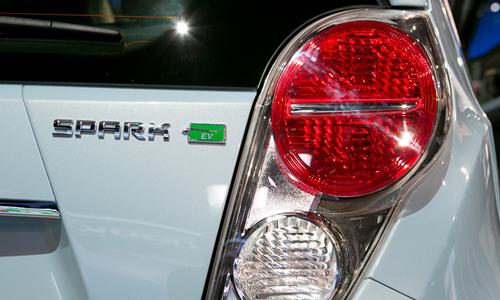 The main 7-inch screen in place of an instrument cluster has a familiar feel and is instantly recognizable as borrowed from the Chevrolet Volt. The battery life and efficiency graphics are nearly identical to the Volt, which proved easy to read and understand in the 20,000-plus miles of ownership with our long-term tester. A second 7-inch display shows multimedia and climate information as well as additional electric info like efficiency statistics.