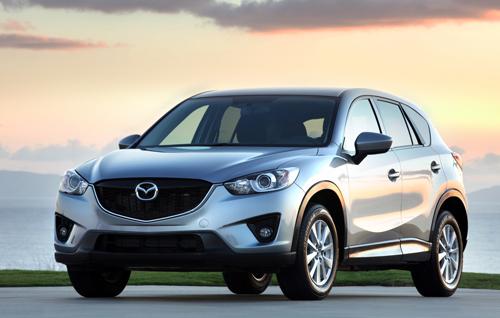 Most significant changes: Addition of 2.5-liter engine
Price change: TBA
On sale: January 2013
Which should you buy, 2012 or 2013? The 2013 still has everything you need; pick the 2014 only if you want the extra power
Mazda's CX-5 was just released in February to rave reviews and placed second in our $25,000 Compact SUV Shootout this summer. Sales followed. So, why is Mazda changing things so soon?
Well, the automaker isn't changing much at all.
More 2012 L.A. Auto Show Coverage
The 2014 is identical to the 2013 in all respects except for two additions: one to make you go faster, one to keep you safer. Yes, there is irony there.
Under the hood is a new 2.5-liter four-cylinder engine. The more efficient 2.0-liter found in the 2013 is still available on all trims. The 2.5-liter — available only on Touring and Grand Touring trims — puts out 185 horsepower and 185 pounds-feet of torque and gets 25/32 mpg city/highway for front-wheel drive and 24/30 mpg with all-wheel drive. While not as impressive as the 35 mpg highway figure on the 2.0-liter engine, the 2.5-liter is still more efficient on paper than the Honda CR-V and just revealed 2013 Toyota RAV4.
A new safety system called Smart City Brake Support is being offered as part of an optional Technology Package. Like similar systems from other brands, this is intended to prevent head-on collisions at low speeds between 3 and 19 mph.
We expect to hear of any changes to pricing before the 2014s go on sale, but it's safe to guess that the 2.5-liter CX-5 will cost a similar premium to the 2.5-liter Mazda3, which is $1,550 more than the 2.0-liter in top trim levels. The current 2013 Mazda CX-5 starts at $21,790. The Touring trim level starts at $24,990. Both prices include $795 in destination charges.