BMW's Matte Paint Requires Sharp Attention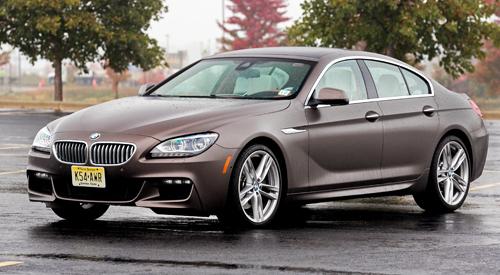 Few factory exterior paints turn heads like BMW's collection of "frozen" matte colors; a pink Chevrolet Spark we drove earlier in the year is a close runner-up. The dull finish of BMW's frozen paints are easily mistaken for a high-end, aftermarket custom repaint or vinyl car wrap instead of a color from the BMW option list that can be ordered alongside heated seats and a blind spot warning system. We recently tested BMW's 2013 650i Gran Coupe clad in a striking Frozen Bronze paint color; it left us wondering about caring for the expensive $3,500 paint option.
The paint is never shiny like a traditional finish, so it's hard to tell when the car is dirty. It's glorious because BMW's frozen paints could be the lowest-maintenance paint ever since they look clean even when filthy. But how often should owners wash it? What about wax, polish or sealants to protect the pricey finish?
The paint doesn't need as much maintenance as regular paint because BMW's first warning cautions that waxes and polishes can damage the paint by giving unwanted shine to the desired dull luster. Ruh-roh. Buffing with a machine or the wrong product can create shiny spots and uneven surfaces. Nothing even mildly abrasive is recommend on frozen colors, either, so glazes, compounds and quick detailers are also out.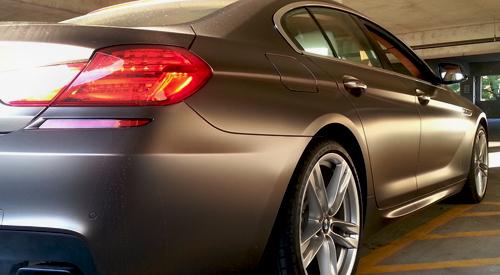 Hand washing is the preferred method for washing BMW's frozen colors. No surprise — BMW recommends its own brand of car shampoo, bug remover and sheepskin wash mitt to care for matte colors. The most important part of maintaining a frozen color is keeping the surface free of contaminants, Matthew Russell, BMW's product and technology communications manager, said in an email. BMW's bug remover is recommended immediately after any contaminants touch the paint, including insects, tree sap, bird droppings, tar and oils. BMW warns regular microfiber cloths shouldn't be used, and excessive rubbing can create a glossy spot in the paint. OK, now this paint is starting to sound finicky.

Want to take a frozen-colored Bimmer through an automatic car wash? There are guidelines for that, too. Touch-less car washes are preferred over brushed ones, and brushes must be soft ones, not plastic bristles. The no-wax requirements also apply to automatic washes, so pick a wash cycle without a wax.

BMW's frozen paints require a different approach to care and maintenance. It may intimidate those who previously haven't put any more thought than a $10 quick wash into caring for a car's paint. A few of our editors second-guessed choosing the fancy matte paint after hearing the damage prevention precautions. Those warnings shouldn't intimidate shoppers who are already somewhat meticulous about car care, however. For some, it may already be second nature to freak out when tree sap hits the car's hood.
Related
Research the 2013 BMW Gran Coupe
2013 BMW M5: Up Close
More BMW News on Cars.com