High-End Safety Features Make Way Into 2013 Nissan Altima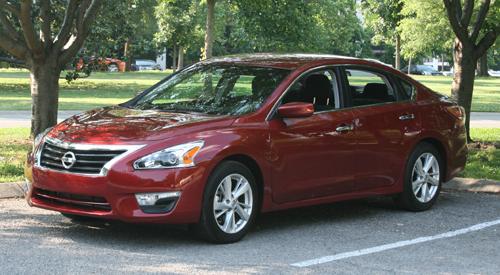 The redesigned
2013 Nissan Altima
has impressed us with its efficient powertrain and comfortable cabin, and it's already selling well. But one story we haven't told about the car is the sheer amount of safety equipment a buyer can get in it.
We've seen many of these features on luxury cars for years, but the Altima and Ford's 2013 Fusion are bringing them to the mainstream market in two of the best-selling cars on the road.
But how well do they work?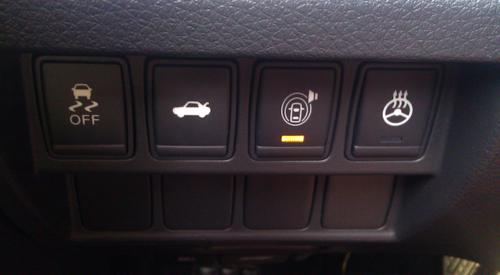 Lane Departure Warning System
A camera scans the road for lane markers and if the car travels outside the lane, an icon lights up on the stem of the side mirror and you hear a warning beep. This doesn't happen if your turn signal is on while changing lanes. The system worked well and wasn't too sensitive; the warning light was subtle, and the beeping was effective without being annoying.
Infiniti was one of the first brands to offer lane departure warning, and it's nice to see it make it down the lineup to Nissan. The Altima's system did not include a lane keeping feature, which applies the brakes to keep you in your lane when you stray too far over a line.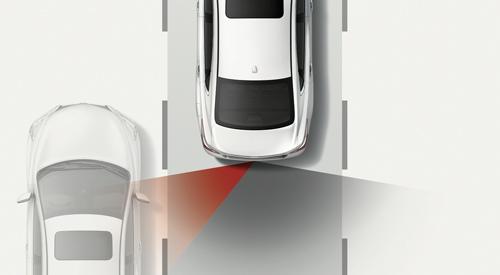 Blind Spot Warning System
The side mirror's light again illuminates when a vehicle is in the Altima's blind spot. If the warning is ignored and the driver signals and starts a lane change, the system emits a warning beep. During my drive, it also worked well … until a storm hit. Then it was dead wrong. In hard rain, the warning light illuminated frequently and for no reason, which means the warning chirps were also incorrect when I tried to change lanes. It added to the distraction of trying to drive through a storm. Luckily, the system can be turned off via a button to the left of the steering wheel.
Blind spot warning has been around for a number of years, including on cars similar to the Altima like the Mazda6, and we occasionally run into issues with them, but the storm situation was new for us.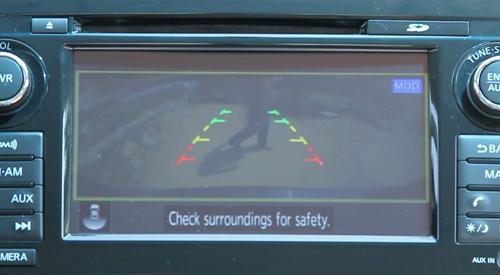 Moving Object Detection System
For the 2012 Altima, a backup camera was an option but not on the base model. For 2013, one is standard starting at the midlevel 2.5 SV trim; the Moving Object Detection system takes things a bit further. If an object is detected in the car's Reverse path, a warning tone sounds. Large, clear guidelines in red, green and yellow provide perspective when backing up.
Object detection is a unique feature and targets the main reason backup cameras are installed: To avoid backing over objects and people darting behind a car. Luckily, I didn't have any close calls, but it did give me extra peace of mind while backing up.
Bottom Line
All these features make the 2013 Altima a safer car, but how much do they add to the car's bottom line? Well, to figure that out, we have to first look at the dizzying array of trim levels: four-cylinder versions are available in 2.5, 2.5 S, 2.5 SV and 2.5 SL. V-6-powered sedans come in 3.5 S, 3.5 SV and 3.5 SL trims.
The backup camera is standard starting on 2.5 SV models, which starts at $25,190, including a $790 destination charge. The other features are available in the Technology Package (a navigation system with 7-inch touch-screen, lane departure warning system, moving object detection, blind spot warning system) for $1,090. But there's a catch: The package is only available on top-of-the-line SL trim cars, and each feature is not available separately. Our test car was an Altima 2.5 SL with the Technology Package and a $30,105 price tag.
How does that stack up to the competition? The redesigned-for-2013 Ford Fusion also got an updated list of safety features. Ford's midsize sedan is available in S, SE and Titanium trims and starts at $22,495, including a $795 destination charge. It offers similar safety systems like Lane Keeping Assist, a blind spot warning system and a backup camera with cross-traffic alert.
Like Nissan, Ford doesn't offer any of these features on base S models. Consumers must jump up to the midlevel SE model ($24,515) and opt for the $1,000 Driver Assist Package, which includes the blind spot and lane departure systems. If you want the backup camera, drivers also have to get the MyFord Touch multimedia system package, which is another $1,000. A rearview camera is standard on topline Titanium trims, which start at $30,995. The SE Luxury Driver Assist Package is again $1,000.
Is the extra equipment worth the added cost? In the case of the Altima, three systems for around $1,000 is affordable, and during my test, the added safety features lived up to their promise most of the time, giving me peace of mind while backing up and during lane changes. It's unfortunate, though, that automakers don't make them available on base or lower-level trims.
Related
2013 Nissan Altima Review
2013 Nissan Altima: Explaining the Trim Levels
2013 Ford Fusion Review