2013 Ford Fusion and Fusion Hybrid: Car Seat Check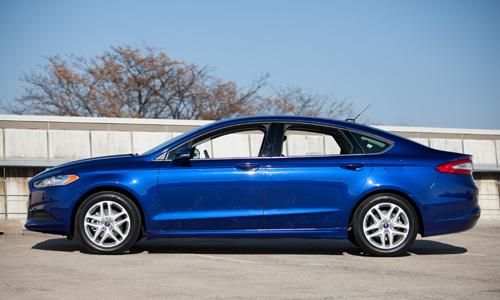 Ford's redesigned
Fusion
and
Fusion Hybrid
stand apart from the midsize sedan crowd with its slim headlights and wide-mouth grille. In our Car Seat Check, we tested the Fusion Hybrid, but its sibling, the Fusion, has the same interior dimensions as the hybrid, so our test results can be applied to both models.
The two models do differ in cargo area: The regular Fusion has 16.0 cubic feet of cargo room, whereas the Fusion Hybrid has 12.0 cubic feet because the battery pack is in the trunk. They also differ in gas mileage, with the Fusion Hybrid getting an EPA-estimated 47/47 mpg city/highway and the gas-powered Fusion getting up to 25/37 mpg.
For the Car Seat Check, we use a Graco SnugRide 30 rear-facing infant-safety seat, a Britax Roundabout convertible child-safety seat and Graco high-back TurboBooster seat.
The front seats are adjusted to a comfortable position for a 6-foot driver and a 5-foot-8 passenger. The three child seats are installed in the second row. The booster seat sits behind the driver's seat, and the infant seat and convertible seats are installed behind the passenger seat. We also install the convertible seat in the second row's middle seat with the booster and infant seat in the outboard seats to see if three car seats will fit. If there's a third row, we install the booster seat and a forward-facing convertible.
Here's how the 2013 Fusion and Fusion Hybrid did in Cars.com's Car Seat Check: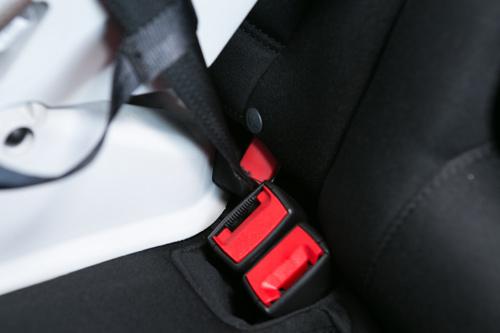 Latch system: Two sets of lower Latch anchors are found in the outboard seats, deeply buried between the seat cushions. During the installations, the interior Latch anchors were difficult to use because the seat belt buckles crowded them. Three tether anchors are on the rear shelf behind the head restraints; there's lots of clearance around the anchors, making them easy to use.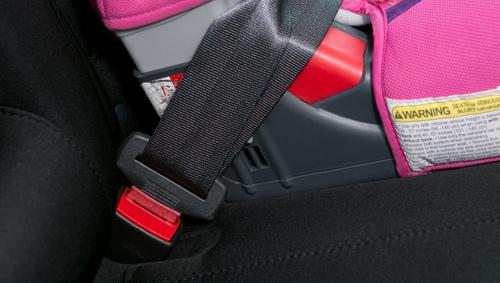 Booster seat: Our high-back booster seat fit well after we raised the head restraint. The buckles are on stable bases and should be easy for kids to use independently.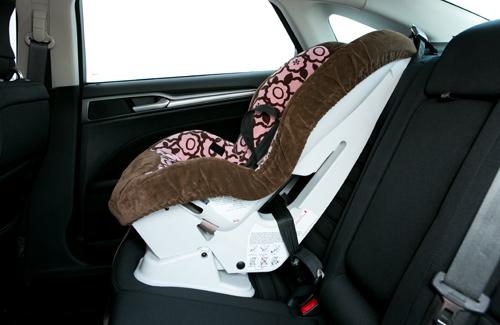 Convertible seat: Once we were finally able to connect to both Latch anchors, the forward- and rear-facing convertibles fit well in the Fusion Hybrid.
Infant-safety seat: This rear-facing car seat's narrow hooklike connectors made it a little easier to use the hard-to-reach inboard Latch anchors. This seat fit well. There was no need to move the front passenger seat forward.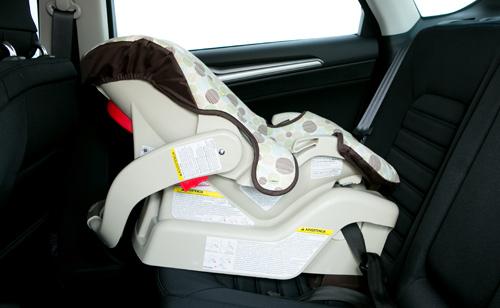 How many car seats fit in the second row? Two
Editor's note: For three car seats — infant-safety seat, convertible and booster seats — to fit in a car, our criterion is that a child sitting in the booster seat must be able to reach the seat belt buckle. Parents should also remember that they can use the Latch system or a seat belt to install a car seat.
Related
Research the 2013 Ford Fusion and Fusion Hybrid
More Car Seat Checks
More Safety News