2013 Hyundai Santa Fe's Third Row Cramps its Family-Friendliness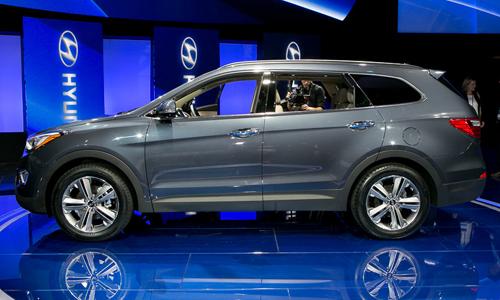 The redesigned 2013 Hyundai Santa Fe, a three-row SUV, is stylish and functional ... if you have a family of three or four. Unfortunately, if you are a party of five or more and need that third row on a regular basis, this stunning Santa Fe likely isn't for you.
As the mother of three, who are all still in child-safety seats, I'm in constant pursuit of that mythical three-row crossover that delivers style, great fuel economy, sufficient cargo space and enough legroom for all.
More 2012 L.A. Auto Show Coverage
After spending some time with the 2013 Santa Fe at the 2012 Los Angeles Auto Show, needless to say, the hunt is still on.
For 2013, Hyundai completely redesigned the popular Santa Fe, adding a third row and kicking its not-so-popular three-row Veracruz to the curb. It also created the two-row Santa Fe Sport for 2013.
While Hyundai earns some kudos for giving the Santa Fe's third row its own air vents, they just don't make up for the fact that the third row is too low to the ground to be comfortable for the average-sized adult. A younger teen, who hasn't had a growth spurt, is the largest person I'd feel comfortable placing back there.
Another downside to the third row is when in use the cargo area is cut down dramatically. With the third row folded, there's 40.0 cubic feet, but with the third row in place, the cargo area shrinks to 13.5 cubic feet. That's barely bigger than the Veracruz's 13.4 cubic feet and well behind the 2013 Honda Pilot's 18.0 cubic feet behind its third row. The 2013 Chevrolet Traverse outsizes them all with its huge 24.4 cubic feet of cargo space behind the third row.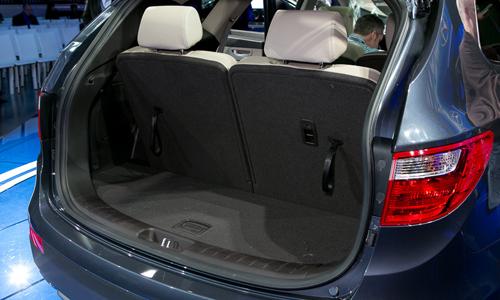 With the third row seats in use, the Santa Fe's cargo area could handle a small grocery run, but there will be no trips to Costco with the whole family in tow.
With all that said, I liked the new Santa Fe. If my family was a little smaller I'd scoop it right up. The top-of-the-line Limited trim comes with second-row captain's chairs, which reduces seating to six, as opposed to the standard bench seat. While some may mourn the loss of the second row's center seat, the addition of captain's chairs makes accessing the third row much easier.
One family-friendly feature that I love is Hyundai's Blue Link. Similar to GM's OnStar, a subscription to Blue Link provides turn-by-turn directions, weather and traffic alerts, maintenance reminders and emergency assistance in the event of a crash.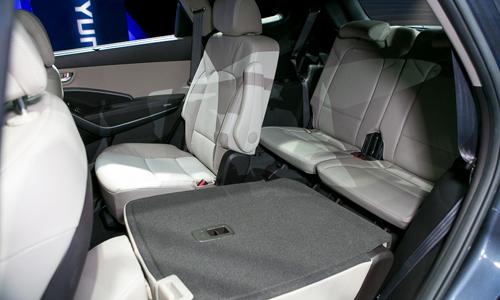 By far, my favorite aspect of Blue Link is for the parents out there: the ability to monitor how fast your teen is driving, where they're going and when they're doing it. Yep, much like Ford's MyKey system, you set the parameters and if (or when) those parameters are broken you're alerted via text message, email or automated phone message. It may seem too intrusive to some, but for this mom of three daughters, I'll be first in line once they hit that dreaded driving age.
Until that time arrives, I'm looking forward to test-driving this SUV with my family in tow.