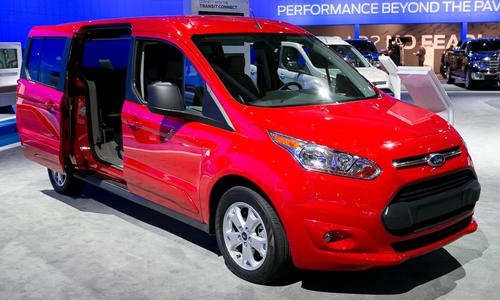 The
2014 Transit Connect Wagon
is not a minivan, according to Ford, but this people mover certainly has many of the features of one: a low step-in height, sliding doors and seating for seven in the long-wheelbase version.
While at the 2012 Los Angeles Auto Show, Cars.com Family writers Carrie Kim, a mom of one, and BreAnn Ahara, a mom of three, checked out the Transit Connect Wagon and came away with differing opinions on whether it will work well for families.
More 2012 L.A. Auto Show Coverage
Carrie Kim: I know I'm definitely in the minority of most moms, but I'd rock a Ford Transit Connect Wagon. Seriously, I would. I'm not asking for one for Christmas or anything, but if I needed to transport people with a lot of stuff, I think it would work. And by work, I mean not only well, but comfortably and efficiently, too.
BreAnn Ahara: Yes, Carrie, you are definitely in the minority. I don't understand where Ford is going with this wagon. As a minivan-loving mom who favors function over form, you couldn't pay me to drive around in that thing. Wait. Scratch that, you probably could pay me ... and considering that the only people up to this point that I've seen driving around in the Transit Connect are the local ADT reps, apparently that's true for most.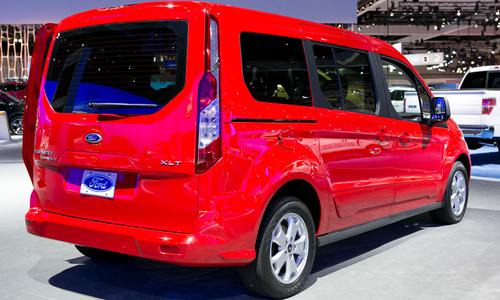 CK: That huge, boxy toaster-on-wheels look is what makes the Transit Connect Wagon most polarizing. I like that it looks drastically different from anything you'd see on the road. Who knows, when driving it, you might be mistaken for a band roadie rather than the snack-shack mom. One thing that can't be denied is that boxy shape affords a ton of cargo room, keeps things feeling extremely spacious inside and provides tremendous visibility. Speaking of visibility, my daughter loudly protests to any vehicle with a high belt line; with as low as the Transit Connect Wagon's is, I'm sure we'd avoid many fits of unpleasantness simply because she'd be able to look out the window.
BA: Ford wants to avoid calling its Transit Connect Wagon a "minivan," but with two sliding doors and the ability to seat seven — I'm calling it like I see it: It's a minivan, and a terrible one at that. While it may be smaller and more fuel efficient than a traditional minivan, it lacks the two key elements of why people buy minivans: the ability to carry people and cargo in a fuel-efficient manner.
In the 2013 Toyota Sienna, there's 39.1 cubic feet of cargo space behind that third row. However, in the Transit Connect Wagon, there is only 19.8 cubic feet. Yes, there are seven seat belts in the wagon's long-wheelbase version, but those seven people are all you'd be able to carry. Forget about hauling the soccer team's gear or the family's luggage for a road trip. What about a busy, errand-running mom of four? She's probably going to bring along a large stroller and will still need some room for groceries in the cargo area of the Transit Connect Wagon. Not looking so versatile now, is it?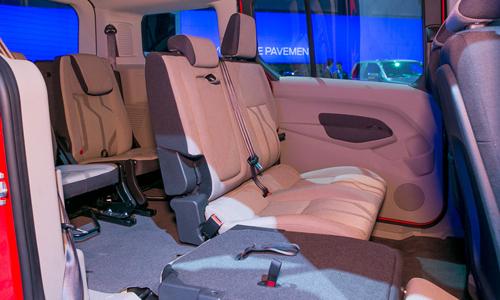 CK: The second-row bench looks like it could realistically transport three people. Most vehicles with second rows that claim seating for three usually require a quick game of rock-paper-scissors with the loser straddling the middle "seat." The Transit Connect Wagon has three actual seats in the row, and if three car seats can be installed alongside each other, that's vehicular gold. If you can get the kids all in the second row, you're left with a cave on wheels in the back to be used just for hauling stuff. Admittedly, if the third row is in use, your cargo area is severely diminished.
BA: I agree with Carrie that the ability to seat three car seats across a single row is vehicular gold, which I must note we have yet put this vehicle through our Car Seat Check. But even if that's the case, you are left with a five-seat wagon that has a large cargo area. Sounds like every other wagon out there. Plus, there are more stylish options that I'd prefer over this "toaster on wheels."
CK: While the Transit Connect Wagon might not have a mass appeal to most families, most families will agree that they value having options.
BA: One positive mark is that Ford is projecting the Transit Connect Wagon will get more than 30 mpg highway. The automaker also says it's going to be much more cost effective than a traditional minivan. That's not enough to snare me, though. Even if they were giving this thing away, I still wouldn't drive it. The Transit Connect Wagon just doesn't meet the needs of my large family. And it's ugly.
Related
2014 Ford Transit Connect Wagon: First Look
2014 Ford Transit Connect Wagon: Up Close
More 2012 L.A. Auto Show Coverage