Driving Santa: Extreme Nerves at 2 MPH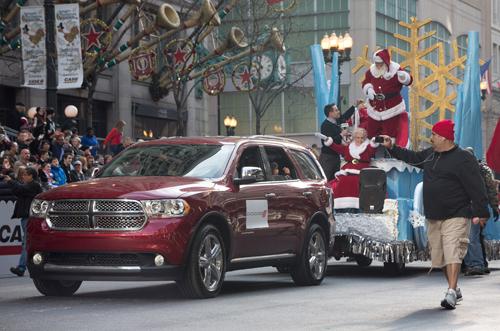 As an automotive journalist, I've piloted 500-horsepower supercars at high speeds. I've driven on some of the best tracks in the country, with professionals offering me tips. Exotic cars with price tags hovering near the balance of my mortgage have parked in my driveway. But after this past Thanksgiving, I can tell you there is nothing quite like playing Rudolph and towing Santa Claus in front of millions of people.
Chicago's Thanksgiving Day Parade doesn't get the same national limelight as the Macy's parade, but it is a tradition for the millions of Midwesterners who watch it on TV and in person. This year the weather was perfect, and it helped bring out thousands of people to watch the floats, big balloons, marching bands and, yes, Santa Claus, roll down State Street.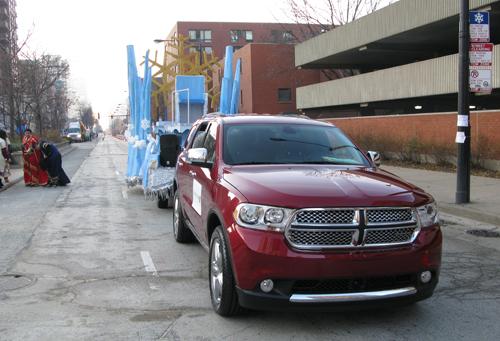 My ticket to tow came via Chrysler. The company is the automotive sponsor of the parade, with its vehicles serving as both stars — the new SRT Viper got its own airtime — and as technical support pulling floats. Company officials asked if I would be interested in towing Santa's float and with my two young, Christmas-obsessed children. I found it hard to say no. Everyone is familiar with how colorful and exciting Thanksgiving parades are. Behind the scenes isn't as glamorous.
My family arrived at the staging grounds bright and early Thanksgiving morning. Around 7 a.m. we passed by a few marching bands, freezing in their light uniforms as a relatively balmy 50 degrees was turned frigid by sharp winds.
We kept passing floats and saw the Office Max elves doing some "warm-up" breakdancing, and we came to the last float that could possibly be for Santa. It didn't look that regal to my wife and me. The shiny, red Dodge Durango towing it looked like the appropriate sled, but the float was worn down, with pieces of painted Styrofoam missing. The chair on which Santa would ride also looked about one step up from what you'd find at a fast-food restaurant.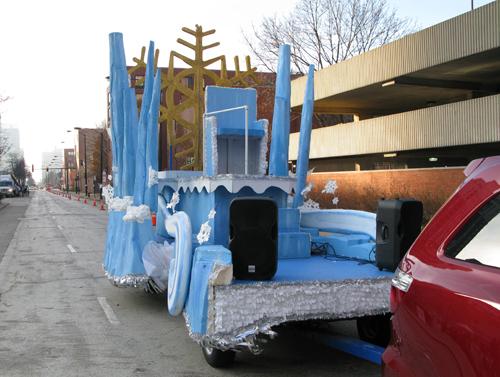 We met our co-driver, who confirmed that it was indeed Santa's float, and we settled in.
I received about five minutes of instruction on how to drive:
Go slow.
Don't come to a sudden stop.
Go slow.
Ride the brake.
Go really slow.
As technical briefings go, this didn't sound so tough.
There was a catch, though. The speakers on the float that are connected to Santa's mic — his ho-ho-hos must be heard — weren't attached to the float. So if you hit too big a bump, the speakers could smash to the ground. Yeah, that wouldn't be good. How many people are watching this thing?
Then there was the whole towing aspect. I can count the times I've towed something on my right hand. This wouldn't be the time to get to the left hand, either.
These thoughts bounced around my head as watched the clock tick closer to 8 a.m. The parade was scheduled to start at 9. As we kept waiting, my son and daughter got to meet local celebrity weatherman Tom Skilling, as the WGN-TV float was one of the few others nearby.
That was all the excitement we had, though, as the clock passed 9. A few floats around us moved up. Santa still wasn't there. My kids kept practicing their hand-waving and blowing kisses with a very patient mom in the backseat. Then 10 a.m. passed, and we hadn't even heard Santa Claus' ETA yet. We were getting nervous.
All the other floats in our area were now gone. I thought it was time to put the Durango in Drive and move up to the next block behind the last float, with its dancing elves, in case that's where Santa was going to meet us.
I drove very, very slowly.
But there were huge sheets of metal in my path covering a torn-up section of road. Even at 2 mph, the float rattled like a poorly assembled Christmas toy. I was sure the speakers would not make it, but we survived. I hope the rest of State Street wasn't under construction. Odds of that in Chicago aren't good.
As we crept up, people kept asking us where Santa was. They weren't parade-goers; they were the parade crew. Uh-oh.
Then right around 10:15, Santa pulled up in a beige Chrysler minivan with Mrs. Claus and two sizable bodyguards in tow.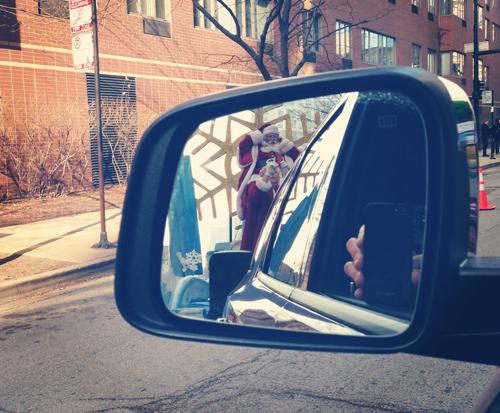 Before mounting his chair, Santa was gracious enough to say hello to my children and asked them what they wanted for Christmas. My kids have been circling toy catalogs for weeks at this point and wanted pretty much everything, but they know to ask Santa for only the most special toy on their lists. Anxiety was high to get Santa on his float, but my kids delivered on command with quick bursts of "Dora Gymnastics!" and "Buzz Lightyear!" There was no "Red Ryder BB Gun" moment for the Thomas children.
With the kids beaming in the backseat, it was time to move. More organizers came to my window with more instructions: when to wait, who's in front of us, how fast to go. STOP!
I crept along at a snail's pace, never breaking 3 mph with a steady 2 mph on the digital readout in the gauge cluster for most of the parade.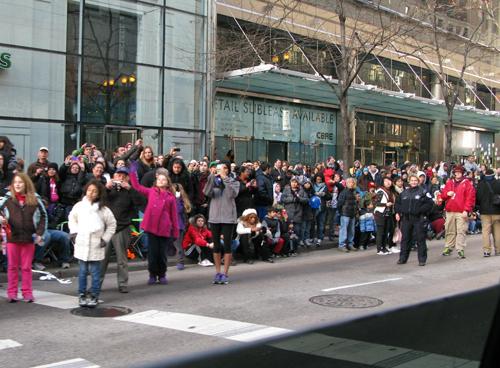 As we approached the official starting point, dozens of people of all ages walked right up to the float to take pictures of Santa and Mrs. Claus. Everyone had huge smiles on their faces. Santa, it seems, is a crowd-pleaser. Even a random protester couldn't keep his frown intact as we passed. Then we hit the big time.
The crowds were huge. Marching bands streamed in front of us from their side-street staging areas, and finally a row of nine police officers on horseback took their marks directly in front of us.
For the next 20 minutes I drove 2 mph, focusing squarely on the behinds of the horse in the middle of that line.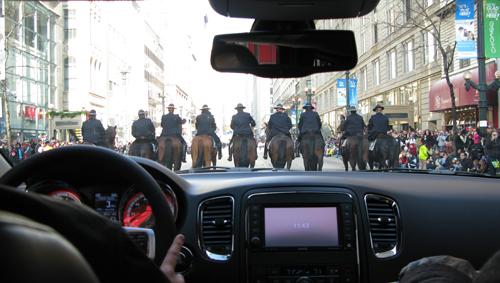 I couldn't quite get over how loud the crowd was upon seeing Santa. Dads screamed "Santa!" like he was Springsteen. Moms screamed "Santa!" like he was Jon Bon Jovi. The kids screamed "Santa!" like he was, well, Santa. The dads were the loudest by far.
My son waved his hand out one side of the SUV, while my daughter — who had been so excited to practice blowing kisses — sat behind a tinted window, her mouth agape at the scene around her.
Me, I was smiling the whole time. It was definitely a rock-star experience, even if all eyes were on the float I was towing. The parade organizers walking alongside me kept pumping me up with kudos, too.
Then came the big moment, when we had to stop for the TV cameras. Here was my driving precision put to the test. I had to drive straight at a logo on the pavement, stare at a TV producer to my left as he waved me to a stop, and then gently roll to a dead stop on cue.
Nailed it.
That's when the dancing started.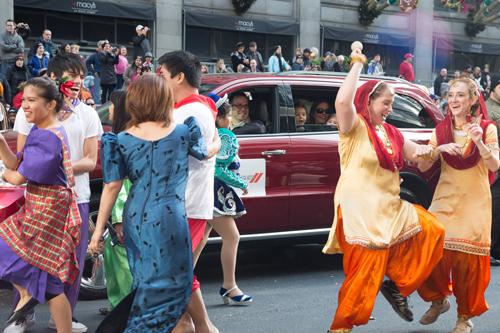 Was it that astonishing of a driving maneuver? No. Performers from throughout the parade came back to do a send-up of "Gangnam Style," which was pretty surreal. There were Star Wars characters of all stripes, professional dancers and, of course, a turkey, all dancing around the Durango and Santa's float.
Then it got even more surreal. Santa suggested a song more appropriate for Chicago, and "Twist and Shout" started playing. Having seen "Ferris Bueller's Day Off" a few dozen times long before moving to Chicago, this was as surreal as it gets.
My kids were overwhelmed at this point, just hanging on the edge of the window, staring at the dancers. This is the lone image of our family we caught on TV when we got home to the DVR.
I felt a bit panicked that my foot was planted on the brake pedal, and I could run over the turkey at any second. But it all ended smoothly, and we rolled slowly to drop off Santa. We pulled away from the crowds, went under the train tracks and stopped in front of that same beige minivan, now double parked with the engine running. There was no time to talk to Santa now. He was whisked away like Bon Jovi headed back to Jersey.
For us, we got in our car and drove home to get the bird in the oven in time for our feast. But I don't think the kids will forget their time pulling Santa's float. Me, I never want to be that nervous going 2 mph again.
Photos by Chrysler LLC, David and Courtney Thomas for Cars.com
Related
Research the 2013 Dodge Durango
How to Transport Your Christmas Tree Safely
More Family News on Cars.com