Ford Fusion Hybrid, Nissan Pathfinder Fastest-Selling Cars in November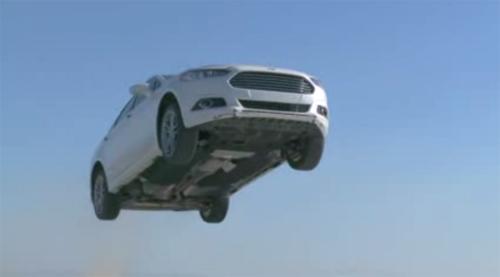 Car sales continue to roll along as the industry continues to release redesigned new models with buyers eager to snap them up.
In November, two newly redesigned vehicles — the Ford Fusion Hybrid and Nissan Pathfinder — were the fastest-selling cars in the country. They stayed on dealer lots just six days versus a 28-day average for all 2013 models. Last November, 2012s moved even faster at 23 days.
The Fusion sedan went on sale as a standard model and a hybrid, but it seems the fuel-efficient version is the preferred one for now, or perhaps just harder to find, as the sedan moved in a still impressive 14 days and also made our monthly mover list.
The Pathfinder saw sales explode in November as shoppers seemed not to care that the once SUV is now a "soft" crossover.
Losing out this month were many of the same models we saw languish in October. Somehow, the super seductive 2013 Nissan GT-R wound up at the bottom of the pile. Perhaps enthusiasts caught wind of the updates coming for 2014.
It's also a good time to be shopping for a luxury car as some impressive models like the 2013 Lexus GS 350 are taking much more time to sell on average than we think they should.
November 2012 Movers
2013 Ford Fusion Hybrid: 6 days
2013 Nissan Pathfinder: 6 days
2013 Toyota Prius v: 7 days
2013 Buick Enclave: 8 days
2013 Mercedes-Benz GL550: 8 days
2013 Subaru XV Crosstrek: 8 days
2013 Mercedes-Benz GL350 Bluetec: 9 days
2013 Toyota Prius: 9 days
2013 Honda Accord Coupe: 10 days
2013 Subaru Impreza: 10 days
2013 Chevrolet Traverse: 12 days
2013 Kia Soul: 12 days
2013 Mercedes-Benz GL450: 12 days
2013 Scion FR-S: 12 days
2013 Land Rover Range Rover Evoque (four-door): 13 days
2013 Ford C-Max Hybrid: 14 days
2013 Ford Fusion: 14 days
2013 Hyundai Genesis Coupe: 14 days
2013 Nissan Sentra: 14 days
2013 Ram 1500 Crew Cab: 14 days
2013 Toyota Sequoia: 14 days
November 2012 Losers
2013 Chevrolet Malibu Eco: 110 days
2013 Mazda6: 109 days
2013 Volvo XC90: 98 days
2013 Smart fortwo: 89 days
2013 Volkswagen CC: 84 days
2013 Acura ILX Hybrid: 69 days
2013 Suzuki SX4 Sportback: 65 days
2013 Nissan GT-R: 63 days
2013 GMC Sierra 1500 Crew Cab: 63 days
2013 Lincoln MKS: 61 days
November 2012 Cars.com Picks
2013 Volvo S60: 45 days
2013 Infiniti M37: 51 days
2013 Acura ILX: 53 days
2013 Lexus RX 450h: 57 days
Lexus GS 350: 58 days
About the Lists
We changed the headline of Movers and Losers earlier this year, but we'll continue to call the lists themselves Movers and Losers. The Movers and Losers list reports the average number of days it takes to sell models from the day they arrive on the lot until the final paperwork is signed by a buyer. This is not a days-of-inventory list like you may find on other websites. With lots mostly clear of 2012 models, we look exclusively at 2013s now.
For Movers, we only list vehicles that pass a certain threshold of sales in order to weed out limited editions, ultra-high-performance cars and others that might skew the numbers or otherwise inaccurately portray popularity. At this point in the year, we focus on 2013 for Losers.
Our Picks highlight cars that take a significant time before they're sold and might be overlooked by shoppers. Dealers could be more motivated to sell these cars.
Related
Top 10 Best-Selling Cars: November 2012
October's Fastest- and Slowest-Selling Cars
More Car Buying News