Latest Compact SUVs Cater to Families of All Kinds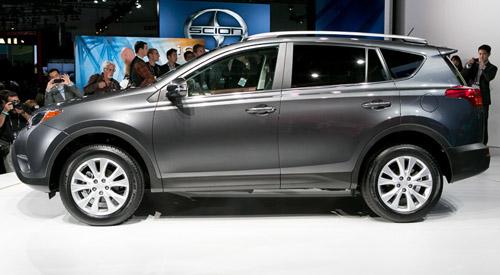 One of the hottest car segments for families — and all car shoppers — is the compact SUV. New versions of the popular Toyota RAV4, Subaru Forester and the Mitsubishi Outlander were unveiled at the Los Angeles Auto Show last week. All three can undoubtedly handle family duty in their own ways, but they each have different strengths when compared to one another.
2013 Toyota RAV4
Before its redesign, this was the SUV I'd recommend most to my friends with kids but would never actually drive myself, but the all-new RAV4 is something I'd not only consider but enjoy. The tried-and-true RAV4 has been a winner for families because of its reliability and spacious cargo area. That's because it had an awkward-to-open swing-gate with a spare tire attached to it, allowing for more room inside.
More 2012 L.A. Auto Show Coverage
The new RAV4 got a drastic makeover; now it's chiseled and polished with a liftgate (the spare tire is underneath the cargo area), but it hasn't lost all of its interior space. The cargo area is slightly smaller than in the previous generation, but it's still large, especially when compared to sleeker competitors such as Kia Sportage. The second row is roomy and provides more legroom than the redesigned Ford Escape. Simply put, the RAV4's biggest strength is that it looks great and still manages to feel larger inside than it really is.
Extra perks include a drastically updated interior featuring premium details and fewer plastic finishes that gave an upscale feel in the top trim on display at the auto show. The Entune multimedia system brings applications to the car and integrates with your smartphone to keep the multimedia and navigation systems current. The RAV4 also will come standard with a 6.1-inch touch-screen and backup camera. Mama likes her features.
With such a drastic transformation, I can't wait to find out if I'll be as enamored with the RAV4 once I've driven it.

2014 Subaru Forester
Perhaps my expectations were set too high, but I didn't find much that was "new" with the 2014 Subaru Forester. However, more of the same just might be the Forester's biggest strength. This cult classic — known to crowd the parking lots of Whole Foods Markets across the country — has been long adored by many families who not only like it, but its image, too. It's an especially great fit for families who put emphasis on the "utility" in an SUV.
Whether battling the elements during daily commutes or hauling gear and sporting equipment on the weekends, active families love the Forester. With its standard all-wheel drive and off-roading capabilities, the Forester can handle most anything a family might hurl at it. An XT model also will be available, which will provide more power for parents who prioritize the driving experience.
With a basic interior with few frills (even at the highest trim level), you won't really need to worry about the kids tracking in grass, mud or snow, which brings family friendly to another level. While its cargo area is far from huge, it has the capability to haul enough luggage for a weekend trip.
Although there doesn't seem to be much "new" when it comes to the Forester, it's not bad. It's just not very different.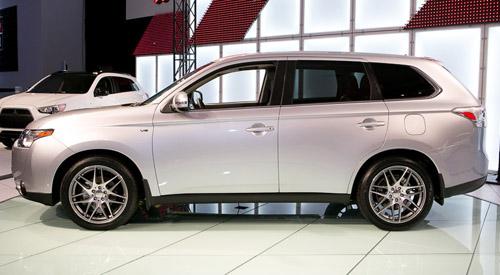 2014 Mitsubishi Outlander
The Mitsubishi Outlander also got a makeover. I found its exterior's looks to be much improved but still conservative. The Outlander is the only small SUV with a third row — the RAV4 no longer offers one — and it comes standard on all models. While the third row would be sufficient for last-minute carpool duty or bringing Grandma along from time to time, it's not one that a family should rely on. When looking at the third row on the auto show's floor, it was almost comical to see the sliver of legroom it affords. The third row brings seating capacity in the Outlander up to seven; that's unique in the small SUV segment, but how useful it'd be is uncertain.
Mitsubishi also will offer a plug-in hybrid version of the Outlander. Families will be able to run limited errands on electric power, but have the flexibility of a gas engine for weekend road trips.
The Outlander offers a decent amount of cargo area, but if the third row is in use, the area looks about an inch deep. Pricing was not released at the press conference, but if it's similar to the current model's starting price of $23,520, including an $825 destination charge, it will be competitive with the rest of the segment and have that third row as a selling point the rest can't match.