Recall Alert: 807,000 Honda SUVs, minivans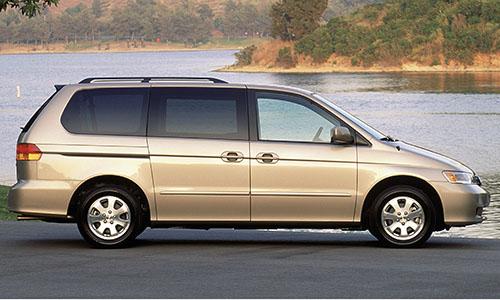 Honda has issued a voluntary recall of 807,000 minivans and midsize SUVs due to a problem with the ignition interlock mechanism that could cause the vehicles to roll away while parked, according to the automaker. Honda said it already has received several complaints of such malfunctions, and two minor injuries have been reported.
The recall affects 318,000 Honda Odyssey minivans and 259,000 Honda Pilot SUVs, all from the 2003-04 model years, in addition to 230,000 model-year 2003-06 Acura MDX SUVs. The vehicles' ignition interlock mechanism can be damaged or worn during use, and it could become possible to remove the ignition key when the transmission is not in Park, Honda stated. If this happens while the parking brake is not set, the vehicle could roll away and a cause an accident.
Honda will notify owners by mail in early February and encourages owners to take their vehicles to a dealer as soon as they receive notification. Owners can determine if their vehicles require repair by calling 800-999-1009 or by going to www.recalls.honda.com. Acura owners may call 800-382-2238 and select Option 4, or go to www.recalls.acura.com.
Related
Recall Alert: 2011 Honda Odyssey
Recall Alert: 2012 Acura MDX and Honda Pilot
Check out More Recalls