NHTSA: Electronic Stability Control Saves Lives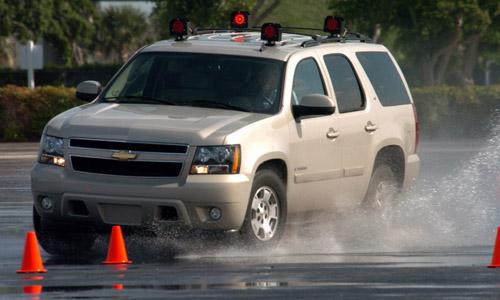 Updated Dec. 7, 2012
Thousands of American lives have already been saved by electronic stability control systems, with many thousands more to come as the technology becomes as standard as seat belts and airbags, according to a National Highway Traffic Safety Administration study.
A three-year study recently released by NHTSA estimates that from 2008 to 2010, electronic stability control has saved more than 2,200 lives; that includes 634 lives in 2008, 705 in 2009 and 863 in 2010. The system uses computer-controlled braking of individual wheels to help drivers maintain control of a vehicle that is beginning to lose directional control or stability, NHTSA stated.
The steady increase has been ushered along by a 2007 federal mandate requiring automakers to install electronic stability systems on all passenger cars, SUVs, vans and pickup trucks manufactured on or after Sept. 1, 2011. The mandate included a phase-in schedule culminating in 100% compliance for all model-year 2012 vehicles.
"NHTSA research has consistently shown ESC systems are especially effective in helping a driver maintain vehicle control and avoid some of the most dangerous types of crashes on the highway, including deadly vehicle rollover situations or in keeping drivers from completely running off the roadway," NHTSA administrator David Strickland said in a statement.
Pointing to the success of the 2007 measure, NHTSA in May proposed a new federal standard expanding the electronic stability control requirement to large commercial trucks and buses. That, NHTSA estimates, could prevent 56% of rollover crashes each year and an additional 14% of crashes resulting from loss of control in large vehicles.
When the 2007 mandate was announced, Kicking Tires reported that Ford already had pledged to make the technology standard by 2009; Volkswagen echoed the pledge the following year. Hyundai also was a leader in implementing the technology, having made electronic stability control standard on the Sonata in 2006. Many companies already included it on their SUVs. NHTSA initially estimated that electronic stability control could save as many as 10,000 lives a year and eliminate around 200,000 injuries.
For a list of model year 2005-10 vehicles equipped with electronic stability control, go to www.safercar.gov.
Related
Stability Control Standard By 2012
2010 Toyota Corolla, Matrix Get Standard Stability Control
More Safety News on Cars.com