Pontiac G8 Used Prices Slide, Buick LaCrosse Strengthens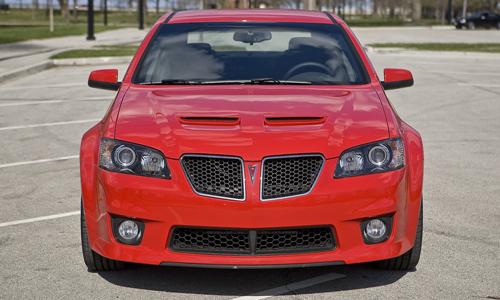 Late-model used-car prices declined for the sixth straight month in December, dropping on average $115 from Nov. 1 to Dec. 1 to $21,711. That's the lowest average price we've seen in Cars.com's national used-car inventory since February 2012.
GM models topped both our list of the biggest drops and highest increases. Last offered as a 2009 model and beloved by car enthusiasts, the Pontiac G8 saw the biggest price decrease for the month. The sport sedan shed 7% (about $1,600) of its average asking price, settling at $22,456. Perhaps the looming winter months are motivating sellers of this rear-wheel-drive car. Prices for used Chrysler 200s and Mitsubishi Endeavors also declined by 7%, but they saw smaller dollar-amount decreases.
On the other end of the spectrum, the Buick LaCrosse sedan's average asking price increased by 7% (also about $1,600) to $23,226. Mitsubishi Galant prices also advanced 7%.
The chart below details the top 10 used cars from the 2009 to 2011 model years with the biggest price drops — as well as the 10 with the biggest increases. To be eligible for the list, a model had to have 500 cars in Cars.com's national inventory.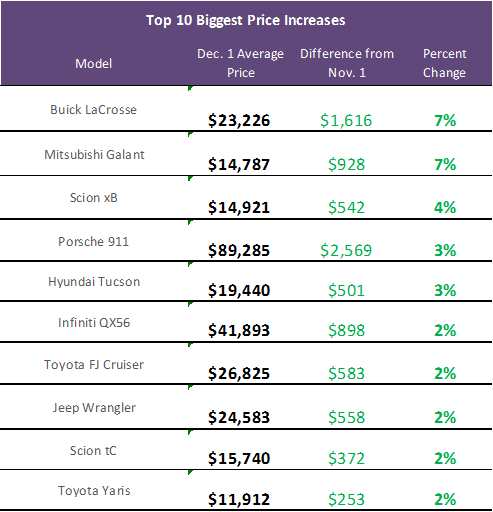 Source: Cars.com used-car listings, 2009 to 2011 model years
Related
Research the Pontiac G8
Research the Buick LaCrosse
More Automotive News