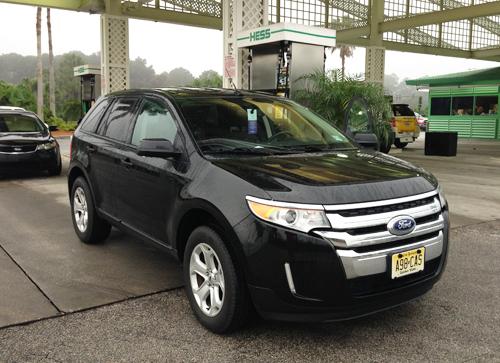 Renting a car used to mean getting stuck with the oldest, most-outdated cars that were still being produced. Today, you can rent the newest models that are in high demand. I recently took my family on a trip to Disney World in Orlando, Fla., and we wound up renting a 2012 Ford Edge SUV with more than 20,000 miles on it. I picked it over the other SUV choices — Jeep Liberty and Ford Expedition — because I knew it'd have a USB plug for our always-depleted smartphones.
The Edge delivered more than I expected.
We flew into West Palm Beach, Fla., to visit family before driving the Edge to Orlando for four days of Disney duty, so I definitely put the SUV through its paces.
What I Liked
The ride was surprisingly quiet and comfortable, which allowed my young children to easily take a snooze on the drive to Orlando.
The backseat was spacious and fit our child-safety seats easily. It seemed like both children could move around more easily in the Edge versus our 2010 Subaru Outback.
It sure was nice going from our four-cylinder Outback to the V-6 in the Edge. There was plenty of passing power on the highway.
Cargo space was terrific; it accommodated our two large suitcases and a double stroller with ease.
Drive height gave a commanding view of the road.
This is a good-looking SUV. A black rental car in Florida isn't a great idea in summer, but it was overcast during our entire stay and I liked being the dad in the black SUV rather than driving something beige or silver colored.
What I Didn't Like
Highway mileage was a consistent 22 mpg versus the EPA-estimated 27 mpg on the sticker. It averaged a little lower after getting to the hotel (pictured above). With two adults, two children and a full cargo area, I can understand the mpg drop, especially because I was traveling on a toll road with a 70 mph speed limit and using air conditioning lightly. Even though the front-wheel-drive Edge performed well versus its specs, I'd want to own a car that did better. My all-wheel-drive Outback with a four-cylinder returned mileage in the high 20s this summer when it was similarly loaded; it's rated at 29 mpg highway.
Ford needs to add more cubbies to its SUVs. There is nowhere to stow a smartphone in the open — to follow GPS directions, find restaurants — besides the front row's two cupholders, which were usually full.
When Sync first came out I thought it was the most user-friendly audio device ever put into a car. Now, even in a model without the aggravating MyFord Touch, Sync responds poorly. I don't understand why I needed to routinely tell it via the voice prompt to play the USB source. Perhaps I'm missing a lesson somewhere, but it could be more intuitive.
The cargo area is pretty high off the ground. It may only be a problem when throwing large — just below the 50-pound airline weight limit — suitcases in, but I could see it being an ongoing headache for owners of average height.
Related
2011 Toyota Corolla: Rental Car Review
Research More SUVs
More Car Reviews