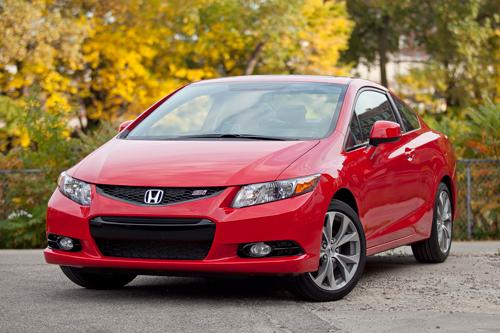 The impact of Superstorm Sandy on the automotive industry will be felt for some time, but in terms of sales, November was a good month for most brands.
With most brands reporting their sales numbers, almost all of them were on the positive side. Chrysler led U.S. automakers with sales up 14%, while Ford and GM saw improvements of 6.5% and 3.4%, respectively.
Japanese automakers continued to see large gains as their sales rebounded after last year's tsunami. Honda was up 38.9% on the strength of the new Accord, CR-V and the best-selling car of November, the Civic, up seven spots from October.
Toyota saw sales jump 17.2% while Nissan's sales gained 12.9% — not on the strength of the Altima sedan, which fell to the bottom of the top 10 this month, but the redesigned Pathfinder SUV that went on sale just a few weeks ago. The company sold 8,097 Pathfinders compared with 2,317 last November.
The other big story we thought might impact sales was the mileage controversy that Hyundai and Kia put themselves in, with most of their models getting reduced EPA ratings on their stickers the first week of November.
Hyundai saw sales up about 8% overall, but affected models, like the Tucson, Veloster and Accent, saw sales drop in November. Kia, on the other hand, had only one affected model whose sales dropped, the Sportage.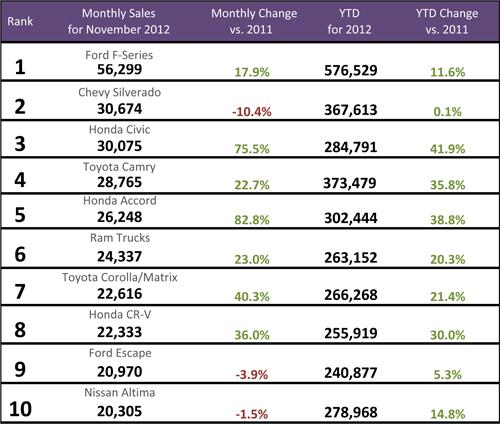 Related
How Hurricane Sandy Could Affect Auto Sales
Top 10 Best-Selling Cars: October 2012
More Automotive News