Toyota Slapped With $17.35 Million Recall Fine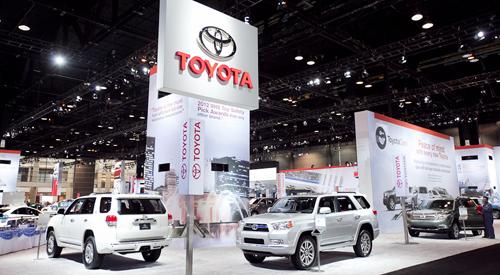 Toyota started recalling vehicles for floormat-related unintended acceleration problems in summer 2009. Fast forward two years — it waited until June 2012 to add the Lexus RX crossover to the list — and the automaker is now paying a hefty price for the delay.
The automaker has agreed to pay $17.35 million to the National Highway Traffic Safety Administration, settling claims related to the timeliness of the recall that affected 2010 RX 350 and 450h vehicles. Under federal law, automakers have five days to notify NHTSA after finding a safety defect.
According to a NHTSA statement, it's the maximum fine allowed by the law and "represents the single highest civil penalty amount ever paid to NHTSA for violations stemming from a recall."
The June 2012 recall affected 131,800 model-year 2010 RX 350 and 22,200 RX 450h SUVs; consumers complained that driver-side floormats crept forward and got stuck under the accelerator. So far, more than 7 million vehicles have been recalled due to pedal-entrapment issues, and this isn't Toyota's first fine related to unintended acceleration.
In 2010, Toyota was also fined $48.8 million for failing to recall millions of vehicles in a timely manner in three separate cases. According to NHTSA, the violations stemmed from delayed pedal entrapment, sticky pedal and steering relay rod recalls.
"We agreed to this settlement in order to avoid a time-consuming dispute and to focus fully on our shared commitment with NHTSA to keep drivers safe," Ray Tanguay, chief quality officer of Toyota North America, said in a statement. The automaker also agreed to make changes to its quality assurance program and how it reviews safety-related issues.
Related
Toyota Expands Floormat Recall
Explaining the Toyota Floormat Recall
More Toyota Recalls on Cars.com