What Does This Button Do?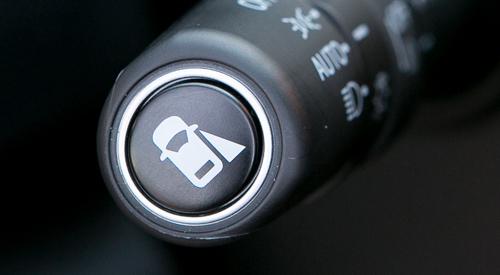 If this button were on James Bond's Aston Martin, it would dispense an oil slick from the side mirror. But this gem is found in the redesigned 2013 Honda Accord. Located on the tip of the lighting stalk with controls for the headlights, fog lights, turn signals and high beams, the button activates an all-new feature that is a first for the industry.
The button triggers Honda's LaneWatch system that captures a wider viewing angle than the regular side mirror through a camera in the passenger side mirror. The camera displays its image with three horizontal reference lines for distance in the main 8-inch screen on top the Accord's center dashboard.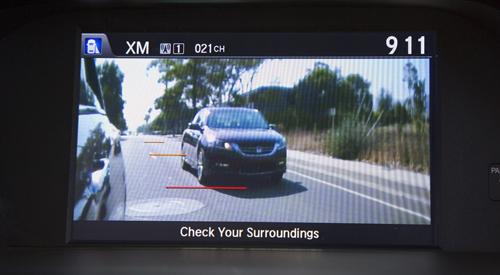 Honda says the traditional passenger-side mirror shows a field of vision approximately 18 to 22 degrees, but the LaneWatch camera shows approximately 80 degrees to give a better view of traffic and pedestrians. Our editors had mixed opinions on the feature's usefulness. Some commented that it worked great but was too distracting, but others thought it was redundant without much difference in viewing angle. Once it rained, however, one editor noted the visibility from the camera is much better than the mirror itself. Pay attention, Pacific Northwest.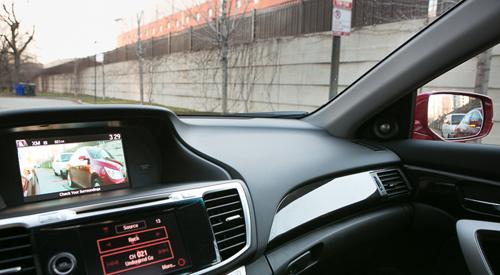 LaneWatch is standard on the Accord EX starting at $25,395 with a $790 destination fee, as well as the pricier EX-L and Touring sedans and EX-L coupe.

Related
More Buttons Demystified on Cars.com
2013 Honda Accord Review
2013 Honda Accord: Explaining The Trim Levels