2013 Ford Escape Goes Green, Literally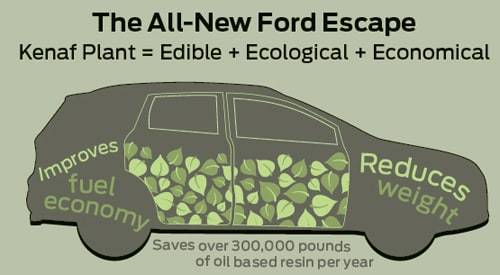 Ford is replacing some of the materials in the Escape's doors with kenaf, a tropical plant related to cotton and okra. Kenaf is edible and looks like bamboo; it's currently used in making cosmetics and paper products.
Ford says using the plant improves the vehicle's fuel economy because it reduces the weight of the door bolsters by 25%. Its fuel economy gains weren't specified, however. The automaker says kenaf will help save oil in other ways, too. Because the plant replaces oil-based materials previously used in Escape's doors, "the use of kenaf is anticipated to offset 300,000 pounds of oil-based resin per year in North America," Ford said in a press release.
When the redesigned compact SUV goes on sale this spring, kenaf will join Escape's soy foam seats and head restraints, recycled-tire climate gauges and carpet made from plastic bottles. 
Ford's Escape certainly isn't the first green vehicle. Land Rover's new-for-2012 Range Rover Evoque, for example, is made with 35.2 pounds of recycled plastic, or about 1,000 16.9-ounce plastic bottles.