2013 Ford F-150 XLT SuperCrew Cab: Car Seat Check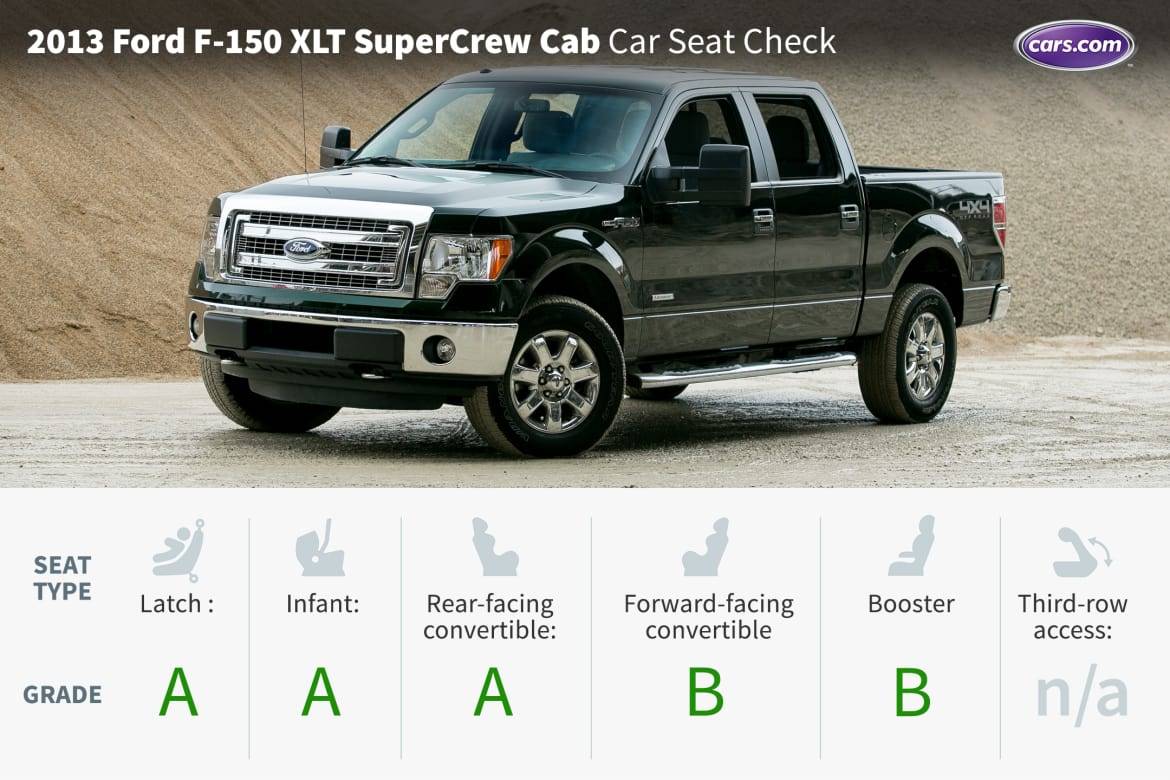 The 2013 Ford F-150 comes in plenty of trims, cab styles and bed styles, but the F-150 XLT with the SuperCrew cab passed our Car Seat Check with flying colors. It easily held three child-safety seats across its backseat, putting it in rare company.
For the Car Seat Check, we use a Graco SnugRide 30 rear-facing infant-safety seat, a Britax Roundabout convertible child-safety seat and Graco high-back TurboBooster seat.
The front seats are adjusted to a comfortable position for a 6-foot driver and a 5-foot-8 passenger. The three child seats are installed in the second row. The booster seat sits behind the driver's seat, and the infant seat and convertible seats are installed behind the passenger seat. We also install the convertible seat in the second row's middle seat with the booster and infant seat in the outboard seats to see if three car seats will fit. If there's a third row, we install the booster seat and a forward-facing convertible.
Here's how the F-150 XLT SuperCrew did in Cars.com's Car Seat Check:
Latch system: There are two sets of lower Latch anchors in the second row's outboard seats. They're visible between the seat cushions, with tons of clearance around them. They were easy to use with both rigid and hooklike Latch connectors. Three tether anchors sit behind the rear seats' head restraints. They're just nylon straps rather than the anchors seen in crossovers or sedans.
Booster seat: The truck's backseat is wide and flat, making it easy to install the high-back booster seat. The seat belt buckles are on stable bases, but they sink into pockets in the seat cushion when buckling up. This could frustrate younger kids who are learning to buckle independently.
Convertible seat: The forward-facing convertible installed easily in the F-150, though the adjustable head restraint pushed the car seat forward. For the top tether, we used the middle seat's tether strap because there wasn't enough distance between the outboard seat's tether strap and the child-safety seat to tighten the tether sufficiently.
There was so much legroom in this SuperCrew cab that we were able to install our rear-facing convertible behind the driver's seat without adjusting its position.
Infant-safety seat: This also fit easily thanks to all the rear legroom.
How many car seats fit in the second row? Three.
Editor's note: For three car seats — infant-safety seat, convertible and booster seats — to fit in a car, our criterion is that a child sitting in the booster seat must be able to reach the seat belt buckle. Parents should also remember that they can use the Latch system or a seat belt to install a car seat.