2014 Cadillac ELR at the 2013 Detroit Auto Show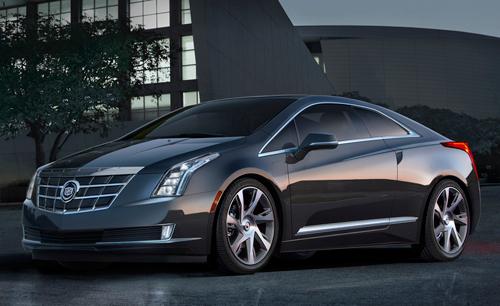 GM has produced its second car to use the extended-range hybrid powertrain first introduced in the Chevrolet Volt, wrapping the front-wheel-drive EV system in a striking two-door Cadillac luxury coupe. The ELR is a 2+2 version of the Volt, but features a far more luxurious interior, a more sophisticated suspension, 20-inch wheels and a proprietary Cadillac User Experience system.
More 2013 Detroit Auto Show Coverage
The electric performance should be similar to the Volt. The ELR will have an approximate 35-mile EV range before the 1.4-liter four-cylinder range-extending motor kicks in, allowing more than 300 miles of total range, but the coupe should deliver a more entertaining driving experience, as is befitting Cadillac's image.
The ELR is almost identical visually to the 2009 Cadillac Converj concept, keeping all of its major styling elements and proportions as well as setting a distinctive shape. A vestigial chrome grille, which doesn't actually let air flow through it, is flanked by vertically stacked LED headlights and Cadillac's signature light pipes. Those headlights extend into the front fenders and create a character line that sweeps dramatically up the sides, culminating in some muscular haunches and vertical LED taillamps that also extend into the fenders. Those fenders house 20-inch wheels with specially developed Bridgestone low-rolling-resistance tires. The rear end features a high tail with Cadillac's family trunk lid trim, but the ELR is not a hatchback. A small trunk opening in back lifts up to reveal a 9-cubic-foot cargo space that's big enough for golf bags or a decent-sized rolling suitcase.
Despite the ELR being longer and wider than the Volt, the lower roof and bigger seats mean the coupe has less interior room, including less head-, hip and shoulder room than the four-door Volt. The interior is far more sculpted with a dramatic angular instrument panel, premium stitched synthetic-leather dash and LED lighting everywhere.
A high center console runs between the front and rear seats, housing the T-shaped lithium-ion battery pack. The center console is dominated by the CUE multimedia system, which is shared with the rest of the Cadillac lineup, as well as the increasingly common touch-sensitive controls for audio, climate and other systems that are appearing in all new Cadillacs. Leather seats are standard, and a premium leather seat option includes 20-way power adjustable controls. Rear seats are small with legroom suitable only for children. The gauges feature information and unique customization that goes beyond the system seen in the Volt, with artistic flair aimed at a more sophisticated buyer. A 10-speaker Bose audio system with active noise cancellation is standard.
The ELR uses virtually the same powertrain as the Volt, an extended-range hybrid electric system powered by a 16.5 kilowatt-hour lithium-ion battery pack. Motion is generated through an electric motor that Cadillac says generates 207 "system-level" horsepower and also produces a significant 295 pounds-feet of torque right from zero rpm, which is more than the V-6-powered Cadillac SRX crossover. Performance numbers are yet to be determined, but the car is limited to a 100 mph top speed, just like the Volt.
Recharging the ELR takes about 12 hours on a household 120-volt outlet and drops to just over four hours at a 240-volt (Level 2) charging station.
The ELR's new regenerative braking system allows the driver to use paddle-style shifters to engage regenerative braking, simulating a downshift in a manual transmission without touching the brake pedal.
A full complement of safety equipment is standard on the ELR, including antilock brakes, an electronic stability system, a lane departure warning system, a blind spot warning system with rear cross-traffic alert and adaptive cruise control. The ELR will also feature Cadillac's Safety Alert Seat, which will vibrate parts of the seat bottom in conjunction with auditory safety warnings if triggered.
Cadillac hasn't yet announced ELR pricing, but the automaker says it'll begin production at year's end.