2014 Mercedes-Benz E-Class Coupe and Cabriolet: First Look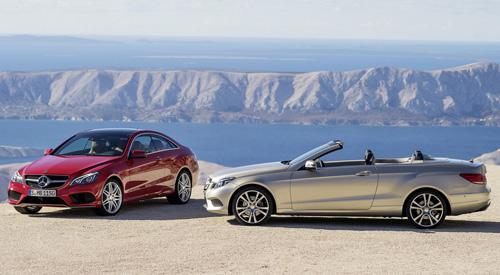 Competes with: BMW 6 Series and Jaguar XK
Looks like: Redesigned front end and restyled bumpers give the pair a more muscular look
Drivetrain: 302-hp, 3.5-liter V-6 and a 402-hp, twin-turbo 4.6-liter V-8
Hits dealerships: Summer 2013
The coupe and convertible versions of Mercedes-Benz's E-Class get striking styling updates for 2014, but the face-lift is more than skin deep. The automaker also has refined the interior and is adding several safety systems to the pair, matching the equipment offered on the sedan and wagon versions.
Outside, new single-lens headlamps with LED accents give the front a more streamlined look. Mercedes says a full LED setup is an option "for the first time in this segment." A V-shaped front bumper and larger air intakes give the car a more aggressive appearance than the outgoing model, as do a wider rear bumper, new taillights and more chrome trim. The overall look is more muscular and ties the pair to its sedan sibling.
Both cabins get more chrome trim, a restyled center console, a new three-spoke steering wheel with shifter lever, redesigned air vents and a chrome analog clock. Mercedes says moving the gear selector from the center console area to the steering wheel makes room for additional storage space and larger cupholders.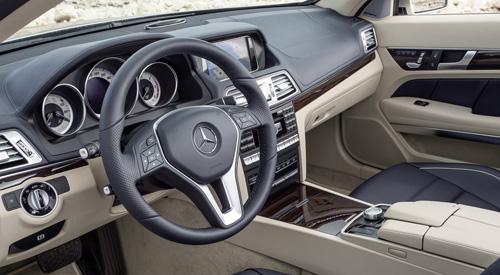 The pairs' powertrains carryover to 2014. E350 coupe and Cabriolets come with a 302-horsepower, 3.5-liter V-6; all-wheel drive (E350 4Matic) is available only on coupes. E550 coupes and Cabriolets get power from a 402-hp, twin-turbo 4.6-liter V-8. A seven-speed automatic transmission is standard across the line, as is a new start/stop system on both powertrains. Common on many other Mercedes vehicles, the feature saves fuel by shutting the car off automatically at a stop.
Also new are several safety systems as well as enhanced versions of existing systems. The Lane Keeping Assist system has been upgraded to nudge the car back onto its side of the road in a passing situation when oncoming traffic is involved. The vehicles also get a new radar camera system that displays a 3-D view of oncoming cars and pedestrians and works with the vehicles' standard collision avoidance systems. The 360-degree radar camera, Active Park Assist and enhanced Lane Keeping Assist system are new options.
Pricing for the pair hasn't been announced; they go on sale this summer. Check out the coupe photo gallery below and stay tuned for a convertible gallery.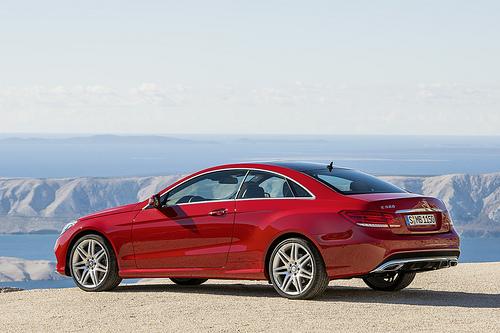 Related
Research the Mercedes-Benz E-Class
More Mercedes-Benz News on Cars.com
More Automotive News on Cars.com