2014 Mercedes-Benz E63 AMG: Photo Gallery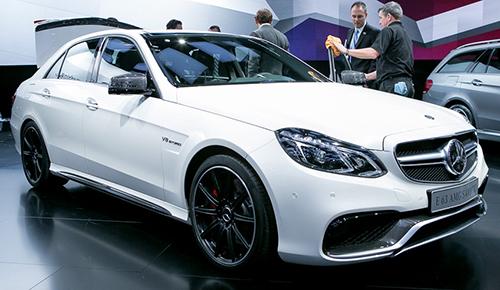 Though you can get a look at the 2014 Mercedes-Benz E63 AMG this week at the 2013 North American International Auto Show in Detroit, you won't get to enjoy the luxury sedan's most exciting feature until it hits dealerships in the summer. Mercedes-Benz's 4Matic all-wheel-drive system harnesses the E63 AMG's ramped-up horsepower and torque for a zero-to-60-mph time of 3.6 seconds.
More 2013 Detroit Auto Show Coverage
In addition to the face-stretching quickness of its 550-hp, twin-turbo 5.5-liter V-8, the E63 AMG's new front introduces all-LED headlights and gaping air openings below the bumper. It also adopts the automaker's A-Wing family look. Inside are a host of available upgrades like sport seats and a unique gauge cluster; there's also wood, lacquer or carbon fiber dash and door trim.
Check out the gallery below.