December's Fastest- and Slowest-Selling Cars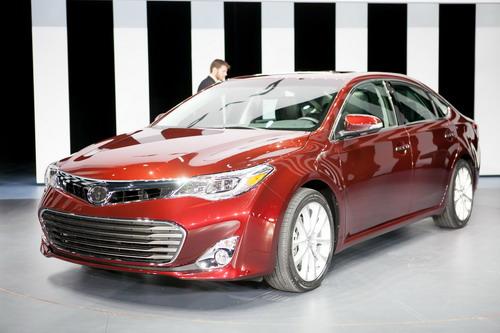 Automakers won't report December sales results until later today, but we have data on the month's fastest and slowest sellers. The redesigned Toyota Avalon hit dealerships in the first week of December, and it stormed the fastest-selling list, with regular and hybrid versions averaging just eight days apiece on dealer lots. Shoppers moved toward the Ford F-Series Super Duty pickup truck, too. That's likely a result of an improved construction market; November housing starts hit their second highest rate since mid-2008.
The redesigned Mercedes-Benz GL-Class, which hit dealerships in September, spent its third month among the fastest sellers; the new-for-2013 Subaru XV Crosstrek also marked its third month on the list. Of the 18 fastest-selling cars, 10 were repeat performers, with such regulars as the redesigned Subaru Impreza and new Scion FR-S. The Kia Soul's severe mileage downgrade doesn't seem to have sapped demand, and neither has the popular hatchback's age. It debuted way back in early 2009, but in December it placed among the fastest sellers for the third month in a row.
On the flip side, the
Acura ILX
spent its second month on the Losers list (the
ILX Hybrid
made November's list). Have buyers snubbed it for the related and less expensive
Civic
from parent company Honda? The Civic's
substantial updates
narrow the quality gap between the two, and buyers in December flocked toward the revised Honda, which averaged just 10 days on dealer lots. Stay tuned to see how both cars fare in today's sales results.
Cars in December 2012 averaged 33 days to turn. That's an uptick versus both November 2012's 28 days and December 2011's 29 days. As is custom this time of year, we looked only at 2013 inventory in December since dealers have cleared out the majority of 2012s. Here are the fastest and slowest sellers:
December Movers
December Losers
Cars.com Picks
About the Lists
The Fastest- and Slowest-Selling Cars list reports the average number of days it takes to sell models from the day they arrive on the lot until the final paperwork is signed by a buyer. This is not a days-of-inventory list like you may find on other websites. We look exclusively at 2013s now, calling the fastest sellers Movers and the slowest ones Losers.
For Movers, we only list vehicles that pass a certain threshold of sales in order to weed out limited editions, ultra-high-performance cars and others that might skew the numbers or otherwise inaccurately portray popularity. To highlight all slow sellers, losers have no such threshold.
Our Picks highlight cars that take a significant time before they're sold and might be overlooked by shoppers. Dealers could be more motivated to sell these cars.
Related
Ford Fusion Hybrid, Nissan Pathfinder Fastest-Selling Cars in November
U.S. Auto Sales Propelled the Economy in 2012
More Automotive News