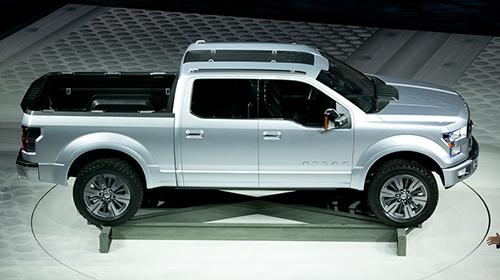 If a new feature on Ford's Atlas concept hints at what's to come, pickup truck drivers could soon find themselves maneuvering their trailers into a parking space while saying, "Look, Ma, no hands!" Based on existing technology for cars and modified for trailer-towing trucks, the auto park feature enables tricky maneuvers without the driver using the steering wheel. Such forward-looking upgrades are what PickupTrucks.com Editor Mark Williams says put the Atlas on the map this week at the 2013 North American International Auto Show in Detroit.
More Detroit Auto Show Coverage
The future of Ford's half-ton and Super-Duty trucks, Williams says, may lie heavily with "active" aerodynamics advancements heralded by the Atlas. They include front grille shutters, an air dam underneath those shutters and wheel shutters that decrease wind turbulence. For more on the future of Ford's trucks, watch the video below.