Honda Urban SUV Concept at the 2013 Detroit Auto Show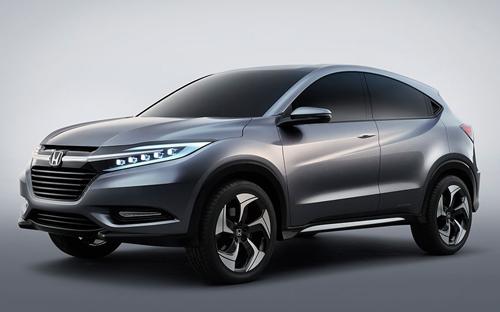 Looks like: Honda is getting ready to enter the subcompact SUV segment
Defining characteristics: Aggressive styling for a Honda
Ridiculous features: Light-pipe head- and taillamps
Chances of being mass-produced: Confirmed — launches in Japan later this year and in late 2014 for the U.S.
Honda has announced a new segment entry for the U.S. market, a subcompact SUV based on the small Fit hatchback. The rather uncreatively named Honda Urban SUV concept offers a sneak peek at this upcoming new model, which will share both a platform and a manufacturing plant with the Fit in Honda's new Mexico assembly facility.
More 2013 Detroit Auto Show Coverage
The new crossover will slot below the CR-V, coming in nearly 9 inches shorter than Honda's popular compact family SUV. It will retain some semblance of off-road capability, according to Honda, for active young people who want to be able to head to the countryside on a weekend escape.
Inside, Honda's vision for the Urban SUV concept (the concept at the auto show has no interior) is rather conventional, featuring an instrument panel that could easily translate into a production form. The concept reportedly uses Honda's Magic Seats system, which are featured in the Fit subcompact and allow for extraordinary flexibility in terms of seating arrangements and cargo hauling. The production version is expected to also make use of this system.
Honda's entry into the brand-new subcompact SUV category will bring the field up to two players — the Honda and the new Buick Encore, which has just been introduced. While popular overseas, it is still an unproven segment in the U.S., and it will be interesting to see if such small urban runabouts will find any popularity among American drivers.