Hyundai HCD-14 Genesis Concept at the 2013 Detroit Auto Show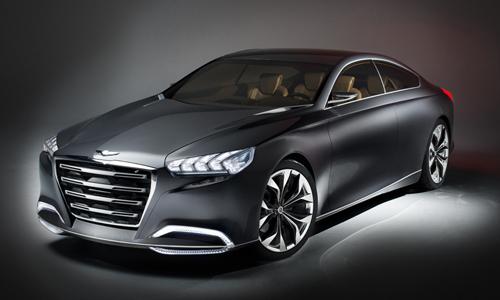 Looks like: The next-generation Genesis sedan we'd like to see
Defining characteristics: Coupe-like roofline, rear-hinged back doors, gigantic grille
Ridiculous features: Driver eye tracking and hand-gesture recognition
Chance of being mass-produced: We'll be shocked if this concept is recognizable in the next-generation Genesis
The Hyundai HCD-14 Genesis concept is a glimpse of what the next-generation Genesis luxury sedan might look like. Though the vertical front end and giant grille certainly look dramatic, it's unlikely to survive its first evaluation in a wind tunnel.
More 2013 Detroit Auto Show Coverage
Without a doubt, this thing is more of a classic concept car, the kind of design study that might influence a future product but probably won't be recognizable in the finished vehicle. The low, coupe-like roofline and rear-hinged doors just don't seem realistic. The 5.0-liter V-8 engine and rear-wheel drive? Well, you can probably count on that.
Other distinguishing features include a center console that doubles as a partition of sorts. Hyundai says the car explores a new human/machine interface that employs a head-up display, driver eye tracking and hand-gesture recognition. Knowing the kind of hand gestures other automakers' new interfaces have inspired, we're not enthusiastic. The iPad storage slot in the center console seems a wiser idea.
Hyundai says the HCD-14 uses optical recognition "to identify the driver and initiate the starting sequence." Turning a key and starting the car is so 1900s….