Kia to Unveil Crossover Concept, Superman Car at 2013 Chicago Auto Show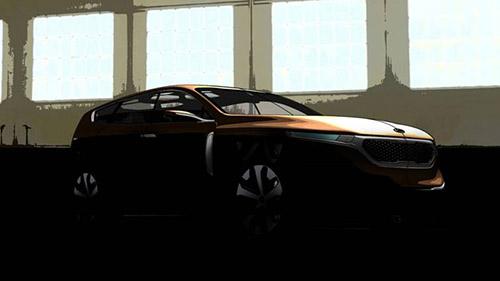 Kia's showing in Chicago next week will be a mix of concept, in the Kia Cross GT, and just plain conceptual, in its Superman-inspired Optima Hybrid. Both cars are set to be unveiled at the 2013 Chicago Auto Show, which runs Feb. 9-18 at McCormick Place.
Kia released a sneak peak of the Cross GT concept this morning. The photo shows what appears to be a seven-seat crossover larger than the 2014 Kia Sorento. Kia describes the Cross GT concept as "inspired by nature, driven by technology" and stated that it "hints at the future of Kia's design language in the form of a premium Crossover Utility Vehicle." We'll have full coverage of the concept next week from the show.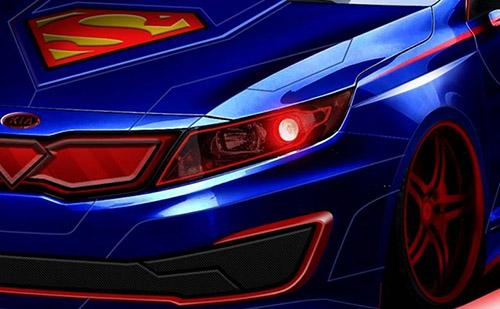 Although the Man of Steel's abilities to go faster than a speeding bullet and leap tall buildings in a single bound mean he won't need a ride to the auto show, that hasn't stopped Kia and DC Entertainment from joining forces to create a
suped
-up vehicle in Superman's honor. The teaser photo of the Superman Optima Hybrid shows it wearing the superhero's signature red and blue, with his red-and-yellow "S" shield on the hood; and the red-tinted headlights look like they could be giving off the superhero's heat vision.
With the addition of the Superman Optima Hybrid, the parking lot at the Justice League's Hall of Justice is filling up fast. The car is the sixth in a series of Kia vehicles customized for each member of DC's superhero coalition, the Justice League. The others, which appeared together at the 2012 Specialty Equipment Market Association Show in Las Vegas, include a Batman-inspired Optima, a Forte Koup for The Flash, an Aquaman Rio hatchback, a Green Lantern Soul and a Forte hatch for Cyborg. According to Kia and DC, the Justice League line will include seven character cars — that likely leaves Wonder Woman as the remaining member to be represented — with an eighth and final car incorporating the entire team.
Related
Original TV Batmobile Sells for $4.2M
Read More Pop-Culture Car News
More Kia News on Cars.com