Ray LaHood Resigns as U.S. DOT Chief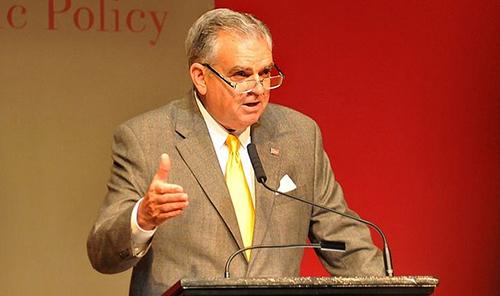 Secretary Ray LaHood announced this morning that his time heading up the Department of Transportation has reached the end of the road, according to a news release. LaHood, 67, said that after serving for four years in President Barack Obama's cabinet, he will not continue for a second term, but he will stay on until his successor is appointed.
In an email to DOT employees, LaHood lauded the department for its work on initiatives to combat distracted driving and pilot fatigue; improving the safety of the nation's transit systems, pipelines and highways; reducing roadway fatalities; and bolstering consumer protections with new regulations for buses, trucks and airlines. LaHood also noted the department's hand in assisting in the nation's economic recovery using $48 billion in transportation funding from the American Recovery and Investment Act of 2009, including the funding of 130 transportation projects across the nation through $2.7 billion in Transportation Investment Generating Economic Recovery grants.
"Now is not the time to let up — we still have a number of critical safety goals to accomplish and still more work to do on the implementation of MAP-21 (the long-term highway funding bill)," LaHood stated.
LaHood was a longtime Republican congressman for Illinois' 18th District, serving from 1995 until 2009, when Obama appointed him Transportation secretary. USA Today described LaHood as "arguably the most consumer-friendly secretary that airline passengers have had," noting his "signature move" of spearheading hefty fines for airlines that leave passengers stuck for hours on planes stopped on airport tarmacs.
LaHood is the sixth department head of 15 to leave as Obama begins his second term. No potential successor has yet been identified, according to USA Today.
Related
Transportation Secretary LaHood to Leave Office
(USA Today)
LaHood 'On a Rampage' Against Distracted Driving
Transportation Secretary: Don't Drive Your Toyota Until it's Fixed