Toyota Corolla Furia Concept at the 2013 Detroit Auto Show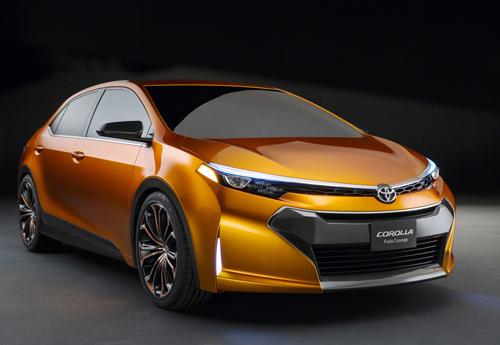 Looks like: Toyota is poised to radically remake the Corolla
Defining characteristics: Aggressive stance, LED illumination, gaping lower grille
Ridiculous features: Carbon fiber accents, 19-inch wheels
Chance of being mass-produced: We can only hope the next Corolla has a design this bold
The Toyota Corolla Furia concept "hints at the styling cues consumers can expect to see on the next-generation Corolla," the automaker said in a statement. The concept's styling is a dramatic departure from the current Corolla, which has seen few consequential changes to its conservative appearance in recent years while, at the same time, a design upheaval has taken place in the segment with the debut of new versions of the Hyundai Elantra and Ford Focus.
More 2013 Detroit Auto Show Coverage
The concept's face is especially distinctive. A sleek, low-profile upper grille extends into LED headlights at the car's corners. Then there's the gaping lower grille, an aggressive design cue.
Not all of the car's design features are likely to see the light of an assembly plant, including the 19-inch alloy wheels and the carbon fiber trim on the rocker panels, rear valence and wheel wells.
Compared to the current Corolla, the Corolla Furia concept is about 2 inches longer, 1.5 inches wider and 1.5 inches lower. Its wheelbase is nearly 4 inches longer, which helps shorten the car's overhangs and enhance its stance.
Despite a host of improved competitors in the compact segment, the Corolla remains one of the top-selling cars in the country. If the next Corolla's looks stays true to this concept, it will be a huge leap in design for a car not known for its styling.