2013 Nissan Juke NISMO: Up Close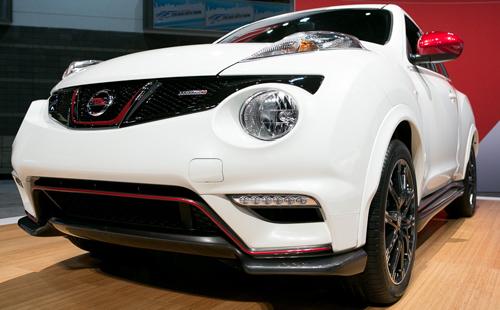 The 2013 Nissan Juke is undoubtedly less awkward with a NISMO trim that enhances the oddball SUV's meanness, adding more aggressive styling on the outside and sporty interior appointments. The Juke's lowered stance from an all-new performance suspension combines with large 18-inch wheels to take away the regular version's roller-skate appearance.
More 2013 Chicago Auto Show Coverage
It's tough to tell in photos, but the white Juke has a pearlescent flake that sparkles compared to a regular white paint. Even so, I don't think white is the best way to accentuate the Juke NISMO's new stance and looks. The black-painted models shown in photos looked much more menacing than the white on display at the 2013 Chicago Auto Show.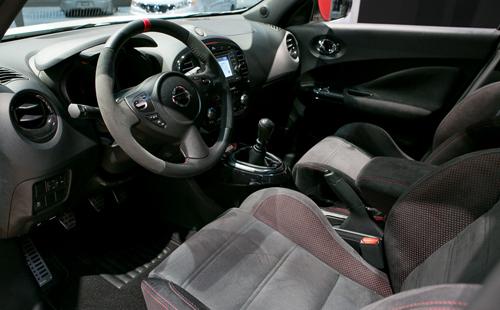 Nissan enhanced the Juke's aerodynamic downforce by 37% by lowering the front end and redesigning the grille. It looks fine, though the LED running lights create a prominent third layer of lighting that looks tacked on compared to the optional fog lights of the standard Juke.
Inside, the Juke NISMO is more impressive with performance-car highlights like the suede-trimmed aggressively bolstered seats with prominent red stitching. They're also a comfortable, supple seat instead of rock-hard sports seats found in many sports cars. The steering wheel and other interior pieces are covered in Alcantara simulated suede and leather to provide a nice grippy touch while looking high quality.