2013 Subaru BRZ: Impressions After 2,000 Miles

Cars.com's long-term 2013 Subaru BRZ has been in full rotation among our editors for roughly a month and 2,000 miles of its planned year-long duty as a daily driver. The BRZ joined our test fleet after we named it and the 2013 Scion FR-S Cars.com's Best of 2013 winners, our most-prestigious award. Both cars' light-footed, rear-wheel-drive performance and value won us over during extensive testing, but we wanted to evaluate if living with one of the twins for a year could live up to our initial excitement.

"The way I can tell it still deserves the win is that every time I see I'm booked in the BRZ on the schedule I look forward to getting behind the wheel. Will that hold true in another six months? I don't know," said David Thomas, Cars.com's managing editor. "The winter weather will be an interesting test for it as well."
Read More About Our Long-Term Subaru BRZ
We replaced the BRZ's standard summer tires with winter tires almost immediately after bringing the BRZ home in late December. The BRZ's handling with winter tires is described here. Because of the winter weather, editor Kelsey Mays said it's hard to say whether the BRZ lives up to earlier test cars in warmer weather.

"The BRZ shows handling chops periodically — it's on par with Mazda's wicked-fun MX-5 Miata — but winter weather and a 1,000-mile break-in period kept us from flogging the car," Mays said.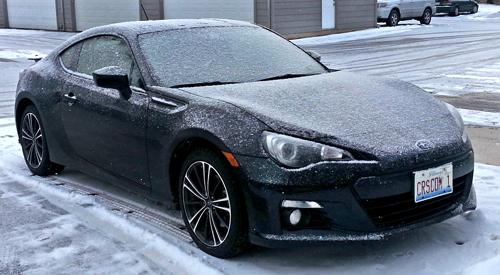 Editor Joe Bruzek also notes the BRZ's hatred of cold weather, "In temperatures below 30 degrees Fahrenheit, moving the shifter into 1st gear before the car warms up is like trying to shove a square peg in a round hole. It takes a few hard shoves before the shifter reluctantly engages 1st gear."

While our editors agree the BRZ is still fun to drive, its downsides are becoming more annoying now that the initial new-toy phase is over. The BRZ's standard touch-screen stereo is particularly frustrating at times.

"There's only one major fault with the car and that's having to use a very tiny 'button' on the touch-screen to skip tracks when listening to music," Thomas said. "There are no controls on the steering wheel, which is fine, but I have to take my eyes off the road for too long just to skip an inappropriate track in my shuffle."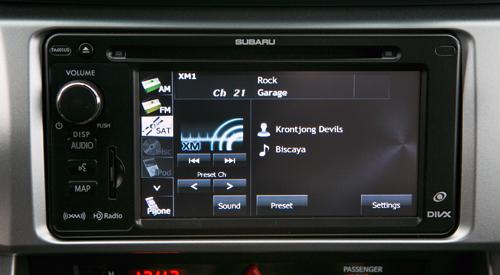 Cars.com news editor Jennifer Geiger agrees, adding, "It's annoying that there are no steering-wheel audio controls. Also, the touch-screen is ant-sized and may be the tiniest I've ever used: The small screen and little buttons complicated using it for anything other than volume control."

The BRZ's proficiency as a road-trip car is also questionable after a few of our editors racked up highway miles with the winter tires. "On the highway, keeping the BRZ on course is a real chore. The tires and steering hardware conspire to send the nose toward the next lane if you so much as reach down to work the tiny radio buttons," Mays said.

Conversely, heavy stop-and-go city driving in which Geiger drove the BRZ doesn't favor the tightly sprung car's strengths, either. "I'm of two minds with this car: The BRZ is a performance-car bargain but is punishing as a daily driver. If you don't often get a chance to drive for fun, this car is not a good choice." Thomas' commute involves mostly highway and suburban driving, which he said was much-less punishing.

The BRZ doesn't disappoint, however, in attracting attention from onlookers.

"People also flipped out when I mentioned bringing over a Subaru and show up in the BRZ — most are expecting a quirky looking sedan or SUV," Bruzek said. "The most common remark is hands-down, 'That's a Subaru?'"

Related
More Subaru BRZ News
Cars.com Long-Term Test Cars
2013 Subaru BRZ Review