2013 Toyota Avalon: Car Seat Check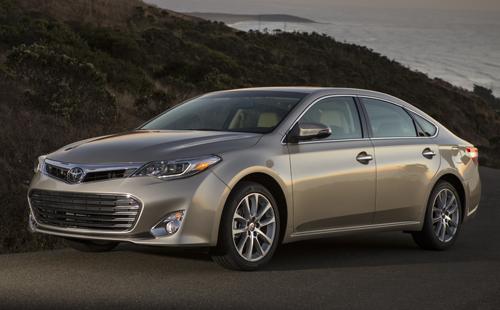 The large-car class is typically full of forgettable faces, but the
Toyota Avalon
isn't one of them. For 2013, Toyota injected a big dose of style into its largest sedan, but the Avalon also got a bit smaller this year. The previous version
held three child-safety seats
, but this one loses that claim thanks to narrower dimensions and more bolstered seats. It's still a roomy sedan, however, easily offering room for two child-safety seats, though buried Latch anchors complicated installation.
For the Car Seat Check, we use a Graco SnugRide 30 rear-facing infant-safety seat, a Britax Roundabout convertible child-safety seat and Graco high-back TurboBooster seat.
The front seats are adjusted to a comfortable position for a 6-foot driver and a 5-foot-8 passenger. The three child seats are installed in the second row. The booster seat sits behind the driver's seat, and the infant seat and convertible seats are installed behind the passenger seat. We also install the infant seat in the second row's middle seat with the booster and convertible in the outboard seats to see if three car seats will fit. If there's a third row, we install the booster seat and a forward-facing convertible.
Here's how the 2013 Toyota Avalon did in Cars.com's Car Seat Check:

Latch system: There are two sets of Latch anchors in the outboard seats. Although they're not set too deeply into the seat bight, they're high up and too closely snug against the cushion. With hardly any clearance between the firm leather cushion and the anchor, it was a struggle to connect.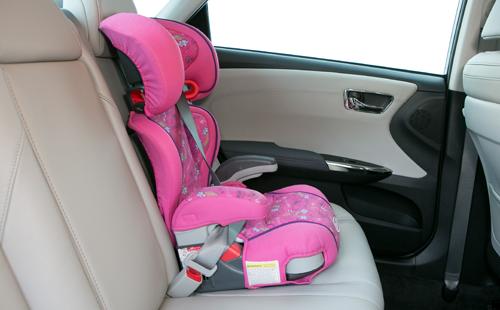 Booster seat: The seat cushions are bolstered, which held our booster seat snuggly in place. The buckles are on firm bases and were easy to use.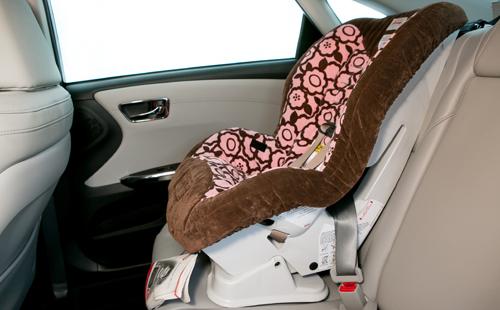 Convertible seat: In forward-facing mode, I opted to install the seat with the seat belt because accessing the Latch anchors was difficult. I also removed the head restraint because it was causing the seat to sit at an awkward angle. There are three tether anchors on the parcel shelf under hinged plastic covers.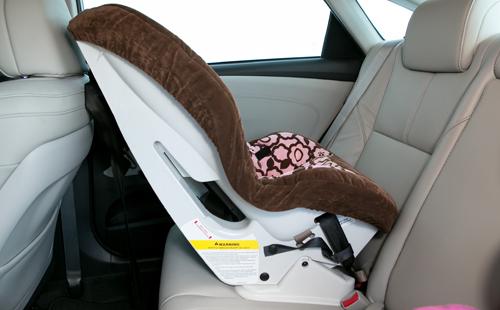 In rear-facing mode, I was able to use the Latch anchors, but it was difficult to connect to them. There was plenty of room for this seat.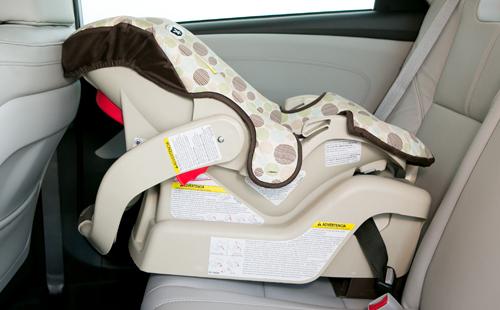 Infant-safety seat: This car seat went in easier thanks to its thin, hook-like Latch connectors. It also had enough room on the bottom seat cushion.
How many car seats fit in the second row? Two, but three narrow seats would likely fit.
Editor's note: For three car seats — infant-safety seat, convertible and booster seats — to fit in a car, our criterion is that a child sitting in the booster seat must be able to reach the seat belt buckle. Parents should also remember that they can use the Latch system or a seat belt to install a car seat.
Related
Research the 2013 Toyota Avalon
More Car Seat Checks on Cars.com
More Safety News on Cars.com