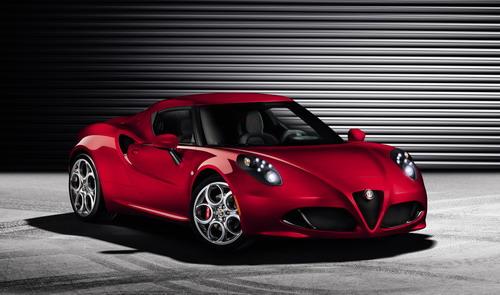 Competes with: Porsche 911, Jaguar F-Type, Lotus Evora
Looks like: A smaller, sleeker version of Alfa's limited-production 8C Competizione
Drivetrain: Turbocharged 1.7-liter four-cylinder and dual-clutch automatic transmission; rear-wheel drive
Hits dealerships: Sometime in 2013
Alfa Romeo left the U.S. in 1995, but in 2009 Chrysler-Fiat CEO Sergio Marchionne promised the brand would return. At the time, Marchionne named four cars to arrive by 2013, but Chrysler-Fiat later scrubbed those plans as Europe's economy plunged into recession. Even as recently as January, Marchionne told reporters Alfa wasn't yet ready for its U.S. return.
The postponement was brief. Witness the production 4C, a mid-engine, rear-wheel-drive sports car based on the concept shown at the 2011 Geneva International Motor Show. It's the first of several new Alfas planned between now and 2016.
The two-seater will debut officially at the 2013 Geneva International Motor Show in March, and it arrives in the U.S. — presumably at Chrysler dealerships — sometime this year.
The 4C's arched exterior places its nose openings close to the ground; broad cut lines emerge from Alfa's iconic triangular grille toward openings behind the doors. The rear recalls the circular taillights from Ferrari, a brand Fiat also controls.
Automotive News reports just 1,000 4Cs will be available stateside. Fiat sources told the publication that prices would start around 60,000 euros ($80,544 at exchange rates at the time of publication). At that price, the 4C competes with performance-focused sports cars like the Porsche 911, Jaguar F-Type and Lotus Evora. The Alfa is tiny, though, measuring more than a foot shorter and several inches lower than the others. It rides on a wheelbase that's less than 95 inches (Alfa Romeo wouldn't give an exact figure), which is easily the group's shortest.
The 4C will have a direct-injection, turbocharged 1.7-liter four-cylinder that sits between the front and rear axles. It drives the rear wheels through a dual-clutch, paddle-shifted automatic transmission and has four drivetrain settings, including a Race mode. The engine is a modified version of the most powerful engine in Alfa's overseas Giulietta hatchback, where it makes 235 hp; Alfa promises a scavenging system to mitigate turbo lag.
The automaker provided no other clues as to final output in the 4C except to say it would saddle the engine with less than 8.8 pounds of vehicle weight per horsepower. That equals a base 911 (8.7 to 8.8 pounds per hp) and beats the Evora S (9.2 pounds per hp) and F-Type S (9.4 pounds per hp).
The competition boasts six- or even eight-cylinder drivetrains. How does Alfa Romeo get that sort of ratio with a four-cylinder? Weight removal — and a lot of it. The brand says the 4C will have a carbon fiber chassis — the stuff of McLaren MP4-12Cs and Ferrari's forthcoming Enzo replacement — which should render untold weight savings. Exposed portions will even surround the driver and passenger.
Other details are scant. We don't know if the 4C will be a 2013 or 2014 model, nor do we know exactly when it will hit dealerships. An Alfa Romeo spokesman didn't reply to our emails, and a Chrysler spokeswoman had nothing more to share than Alfa's press release.
For now, check out the photos below.
Related
Chrysler CEO: Alfa Romeo to Return to U.S. With New 4C
Chrysler-Fiat Plans 47 New or Updated Cars by End of 2016
More Automotive News