Chrysler CEO 'Saw Tears' Over Next-Gen 200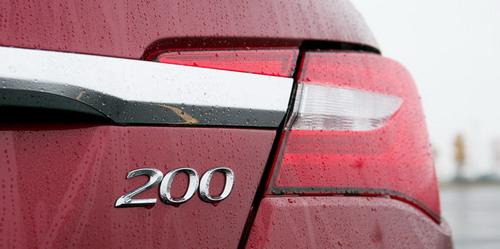 Chrysler dealers stood and clapped in Las Vegas in September 2012, and it wasn't because the blackjack dealer drew a bust. It was at a closed-door dealer meeting and Chrysler had just unveiled the next-generation 200, a midsize sedan that departs from the current Sebring-derived car.
More 2013 Chicago Auto Show Coverage
Saad Chehab was there. Chehab, CEO of Chrysler's namesake division, said dealers gave the new 200 a standing ovation. Chrysler-Fiat CEO Sergio Marchionne confirmed to reporters in January that the car will have a nine-speed automatic transmission, which could raise highway gas mileage to the high 30s or beyond. That's competitive with leading family cars like the Nissan Altima and Honda Accord.
Wait a minute. Chrysler dealers were pretty enthusiastic when the automaker showed off the current Sebring-turned-200 refresh at a similar meeting in Orlando, Fla., in 2010. We lauded the effort but said the 200 needed more. Still, it notched 125,476 sales in 2012, which is better than any year in the preceding Sebring's tenure. Chehab called it Chrysler's "little hero, [a] surprise of the brand." Still, 2012's sales for the 200 fell well short of stalwarts like the Chevrolet Malibu (210,951), Hyundai Sonata (230,605), Ford Fusion (241,263), Altima (302,934), Accord (331,872) and Toyota Camry (404,886).
What makes Chehab think the new 200 will compete?
"I saw tears," the 45-year-old CEO told us at the 2013 Chicago Auto Show, which runs through Feb. 18. But he conceded that car shoppers will decide the car's success: "We'll leave it to the market to judge it when [the new 200] comes out."
For now, Chrysler will sell as many 200s as it can — especially those with the automaker's Pentastar V-6. The 200's higher V-6 mix is "deliberate to increase residual values," Chehab said. Indeed, 36.8% of new Chrysler 200 sedans in Cars.com national inventory have the V-6 versus 20.2% of new Accord sedans and just 9.3% of new Camry sedans. Chrysler's current incentives show between $3,000 to $3,500 in cash back on the sedan, which is already the least expensive in the segment.
The new car will have to spearhead Chrysler-brand sales because it won't get much help. Chrysler-Fiat CEO Sergio Marchionne canceled two Fiat-built Chryslers in a January product plan but confirmed that the next-gen 200 and one refreshed model will debut in 2014. Three more new cars will arrive in 2015. They're part of 47 new or updated cars through 2016 among Chrysler-Fiat's seven brands: Chrysler, Dodge, Jeep, Ram, Fiat and soon-to-come Alfa Romeo.
Does the Chrysler division need more cars? It has just three — or four if you split the 200 sedan and convertible. None of them had redesigns or refreshes that hit the market in 2012, yet sales increased 39.1% for the year. Some of that came from higher incentive spending, but Chrysler Group sales chief Reid Bigland told the Detroit News in December the automaker is pursuing a "disciplined, methodical game" with incentives. The proof came a month later: Chrysler Group reported nine times more profits in 2012 than in 2011.
"When I look at that progress — with three cars that we have, with modest marketing budget and keeping our heads down — I can't complain about what I've got," Chehab said.
Related
Chrysler-Fiat Plans 47 New or Updated Cars by End of 2016
Research Chrysler Vehicles
More Automotive News