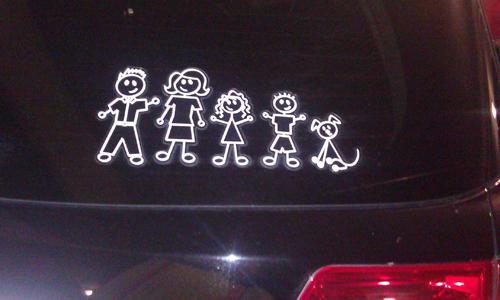 It seems like it was back in 2006 when stick-figure sticker families started popping up on cars here and there. They seemed to quickly breed and multiply like wild stick-figure bunnies. What started as a personalized novelty grew into a trend. As with every trend, there were those who drank the Kool-Aid down to the last drop and those who didn't participate. Recently the stick-figure-sticker craze seems to have spawned a third group — those who vehemently oppose stick-figure families altogether.
When stick-figure families became common, those looking to differentiate themselves from the rest of the pack in carpool lanes got creative. Families of bright and happy flip-flops, palm trees, smiley faces and snowmen popped up on rear windows. A quick poll revealed a recent surge of friends and family members whose stick-figure families hinted of masculine appeal in the form of "Star Wars" and zombie decals. Even tech geeks are showing their true colors with a family in my neck of the woods using Mac apples in differing sizes to represent family members.
Like with any craze, there is often backlash. There is increasingly graphic opposition to stick-figure families popping up on cars.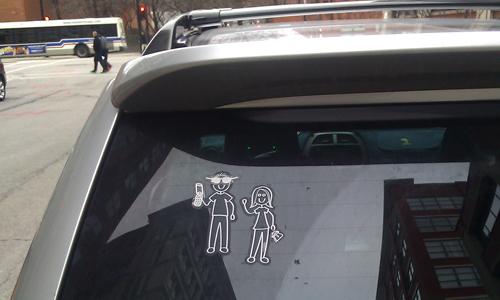 Just last night I pulled in behind a car on the highway with a graphic of a masked chain-saw-wielding madman chasing a family of stick figures with wording that read, "Nobody cares about your stick-figure family." Online search revealed decals depicting other stick-figure families being bombed by fighter jets or their heads being blown off by gun-wielding stick-figure children. It only goes downhill from there.
While we could simply chalk this up to a harmless car-personalization debate, given our country's recent violent episodes, joking about such violence through car decals seems distasteful — at best — to me.
What do you think? Are displays of violent stick-figure family protests an innocuous outlet or something more vile and repulsive? Tell us in the comment section below.
Related
Family News
Find Cars that Fit Your Life
In the News