January's Fastest- and Slowest-Selling Cars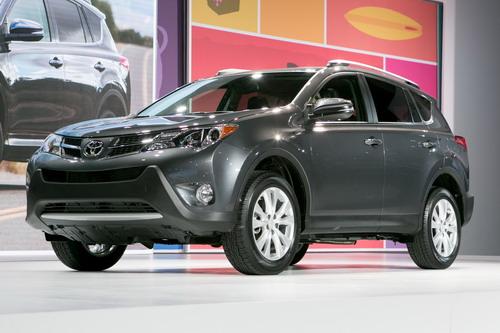 If Toyota's genie-granting Super Bowl XLVII ad got you thinking about the RAV4, you might have to wait for your local dealer to ramp up stock. The automaker's redesigned SUV was January's fastest-selling car, averaging just five days to move. It joins a number of 2013 redesigns: the Ford Fusion Hybrid, Land Rover Range Rover, Mercedes-Benz GL-Class, Toyota Avalon, Toyota Avalon Hybrid and Nissan Pathfinder. All seven cars saw substantial January sales improvements — beyond the industry's 14.2% overall gain, in fact.
Winter months had all-wheel drive in high demand; twelve of January's 18 fastest sellers offered it. Even luxury SUVs like the Mercedes GL-Class and Land Rover Range Rover, whose prices extend into the six-figure range, took little time to sell. January marks the GL's fourth month as a mover, and if that's any indication, the Range Rover, which went on sale in December, will likely stick around for a few months.
On the flip side, the Acura ILX had its fourth month among the losers (in ILX or ILX Hybrid form). Sales for the Civic-based premium sedan outpaced Acura's other sedans last month, but the car sold slower than it took for the Superdome's lights come back on. Buick's competing Verano took 49 days to sell — 44 days less than the Acura. Unsurprisingly, the Verano outsold the ILX by more than a 2-to-1 ratio in January.
Cars in January averaged 40 days to sell. That's a sizable increase over December 2012 when cars averaged 33 days, and it falls about even with January 2012 (34 days). It's also a big shift from last year when the December-to-January average actually fell, but it follows the trend we saw in December 2011.
Here are January's fastest and slowest sellers:
January Movers
January Losers
Cars.com Picks
About the Lists
The Fastest- and Slowest-Selling Cars list reports the average number of days it takes to sell models from the day they arrive on the lot until the final paperwork is signed by a buyer. This is not a days-of-inventory list like you may find on other websites. We look at 2013 and a handful of 2014s now, calling the fastest sellers Movers and the slowest ones Losers.
For Movers, we only list vehicles that pass a certain threshold of sales in order to weed out limited editions, ultra-high-performance cars and others that might skew the numbers or otherwise inaccurately portray popularity. To highlight all slow sellers, losers have no such threshold.
Our Picks highlight cars that take a significant time before they're sold and might be overlooked by shoppers. Dealers could be more motivated to sell these cars.
Related
December's Fastest and Slowest Selling Cars
Top 10 Best-Selling Cars: January 2013
More Automotive News