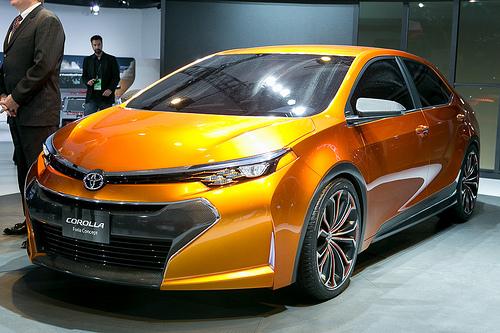 Toyota is readying a redesigned version of its Corolla compact car for the 2014 model year. The production version hasn't been seen yet, but the Furia concept that debuted at the 2013 Detroit auto show and is on display at the 2013 Chicago Auto Show now is more than just a potential design study. According to the automaker, it incorporates a number of design cues that will make it to the production Corolla. Toyota just won't say which ones.
"We've got to get a lot more aggressive on styling," said Toyota spokesman Curt McAllister in reference to the Corolla, which is now one of the oldest models in the compact segment but still one of the best-sellers. The Furia concept is considerably sportier looking with its slender headlights, gaping lower grille and taut lines.
Toyota hasn't decided where the new Corolla will be revealed, but it might debut somewhere other than a major auto show. The next major U.S. auto show is in New York in the spring. In the meantime, which of the Furia design features do you want to see on the 2014 Corolla? Let us know in the comment section below.