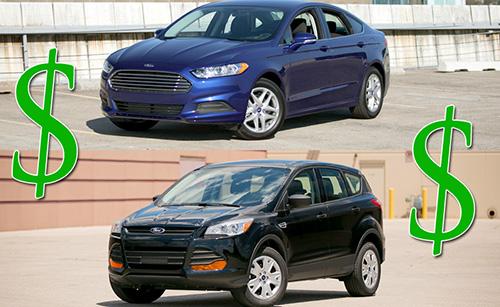 Do you live in one of the largest metropolitan areas in the U.S.? If so, there's a decent chance you can't afford a new car, according to a report by Interest.com, a consumer financial information website. It concludes that out of the nation's 25 largest metro areas, a median-income household can only afford an average-priced new vehicle in just one of them: Washington, D.C. The analysis considered three key factors: a 20% down payment; financing for no longer than four years; and principal, interest and insurance totaling no more than 10% of a household's gross income.
"What this research indicates, more than anything, is that a lot of Americans are spending too much money on their cars," said Mike Sante, Interest.com managing editor, in a news release. "Car costs are one of the most controllable parts of a household's budget. … You're better off driving something more affordable and saving or investing the difference."
Assuming an average purchase price of $30,550 and a monthly payment of $601, the median income of our nation's capital afforded its residents a $628 monthly payment. San Francisco and Boston came closer than most, but still fell short with $537 and $507, respectively.
The three largest U.S. cities — New York, Los Angeles and Chicago — hovered near the middle, with denizens of each able to afford a roughly $21,000 car and monthly payments in the low-$400s. Detroit, Miami and Tampa residents ranked at the bottom of the list as least able to afford cars, only able to accommodate an average monthly payment of between $282 and $332.
Check out the list below to see where your city ranks, followed by its average affordable purchase price and monthly payment:
25. Tampa: $14,516, $282
24. Miami: $15,188, $295
23. Detroit: $17,093, $332
22. San Antonio: $17,137, $334
21. Phoenix: $17,243, $348
20. Pittsburgh: $17,298, $340
19. St. Louis: $18,550, $371
18. Atlanta: $19,122, $376
17. Milwaukee: $19,297, $373
16. Houston: $19,811, $386
15. Dallas: $19,959, $389
14. Sacramento: $19,965, $397
13. Los Angeles: $20,385, $410
12. Chicago: $20,616, $417
11. Philadelphia: $21,069, $419
10. New York City: $21,464, $431
9. San Diego: $21,781, $433
8. Denver: $21,835, $432
7. Portland, Ore.: $21,985, $397
6. Seattle: $22,963, $466
5. Minneapolis: $24,042, $470
4. Baltimore: $24,079, $468
3. Boston: $26,025, $507
2. San Francisco: $26,786, $537
1. Washington, D.C.: $31,940, $628
Related
Buyers Spend Less for New Cars, More on Financing
Enticing Lease and Financing Deals Return to Car Market
More Financing News on Cars.com