2013 Kia Soul: Car Seat Check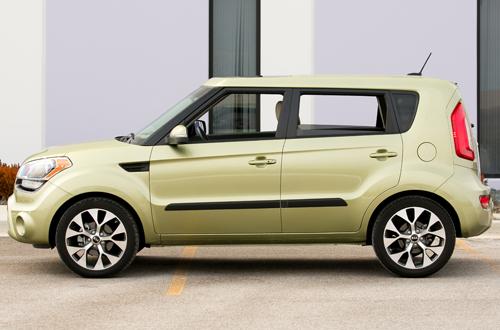 Kids — and hamsters — may love the way Kia's compact, quirky
Soul
looks, but parents won't be impressed with the boxy hatchback's backseat. Stiff seat cushions obstruct its Latch anchors, and the car's tight confines complicated child-seat installation.
For the Car Seat Check, we use a Graco SnugRide 30 rear-facing infant-safety seat, a Britax Roundabout convertible child-safety seat and Graco high-back TurboBooster seat.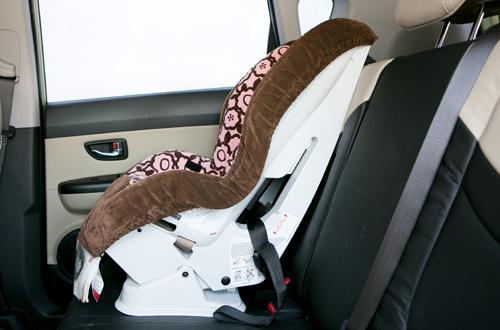 The front seats are adjusted to a comfortable position for a 6-foot driver and a 5-foot-8 passenger. The three child seats are installed in the second row. The booster seat sits behind the driver's seat, and the infant seat and convertible seats are installed behind the passenger seat. We also install the infant seat in the second row's middle seat with the booster and convertible in the outboard seats to see if three car seats will fit. If there's a third row, we install the booster seat and a forward-facing convertible.
Here's how the 2013 Kia Soul did in Cars.com's Car Seat Check:

Latch system: There are two sets of Latch anchors in the outboard seats. The anchors are not buried too far down into the seat bight, but the cushions are very firm; pushing them out of the way to access the anchors was tough. The inboard anchor also had a seat belt buckle blocking it, complicating access.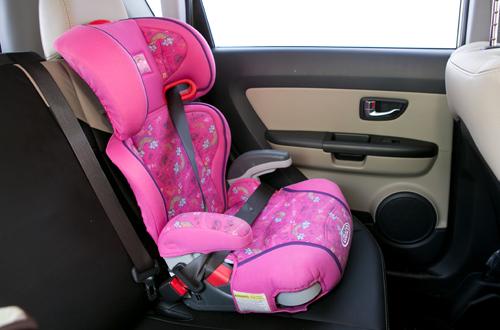 Booster seat: The bolstered seat bottom pushed the booster to one side, but once we got it nestled on the seat, it fit fine. The head restraints don't interfere with the booster. The buckles are on floppy bases, which may make it tough for kids to use independently.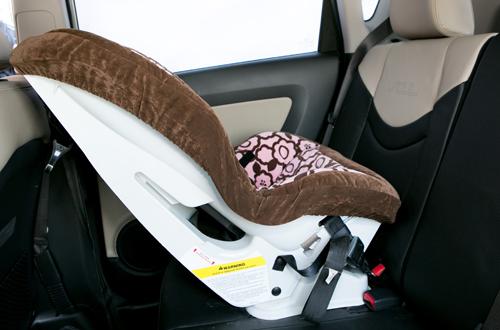 Convertible seat: There are three tether anchors on the seatback. They were easy to connect to when installing the forward-facing convertible. We had to remove the head restraint because it was pushing car seat forward.
In rear-facing mode, we didn't need to move the front-passenger seat forward to get this seat to fit, but it was difficult to install because the seat belt buckle is in the way; we had to push the buckle down into the seat bight to clear a path to the anchor.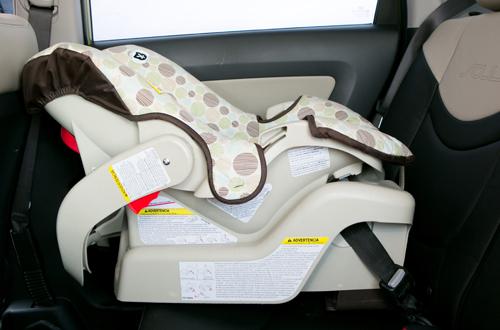 Infant-safety seat: We had to move the front passenger seat forward one click to make room for this rear-facing infant seat; the passenger still had enough legroom. This seat was also tough to install because of the Latch anchor placement.
How many car seats fit in the second row? Two
Editor's note: For three car seats — infant-safety seat, convertible and booster seats — to fit in a car, our criterion is that a child sitting in the booster seat must be able to reach the seat belt buckle. Parents should also remember that they can use the Latch system or a seat belt to install a car seat.
Related
Research the 2013 Kia Soul
More Car Seat Checks on Cars.com
More Safety News on Cars.com