2014 Chevrolet Camaro Z/28 at the 2013 New York Auto Show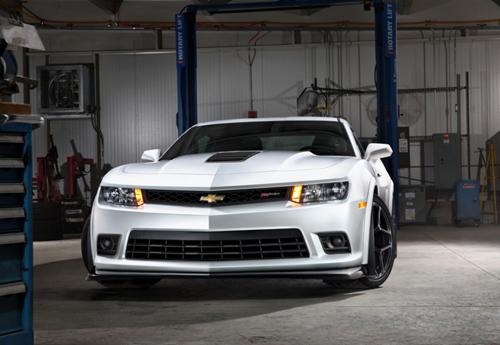 Competes with: Ford Mustang, Hyundai Genesis Coupe
Looks like: Chevy wants to see how narrow a grille can get
Drivetrain: 500-hp, 7.0-liter V-8 with six-speed manual transmission
Hits dealerships: Spring 2014 for Z/28, 2013 for rest of Camaro lineup
Chevy revealed a new track-ready trim level for its upcoming 2014 Camaro lineup. While the Z/28 looks are representative of the more mundane Camaro muscle cars, Chevy did not reveal much information about the rest of the lineup that 99% of shoppers are interested in today.
More 2013 New York Auto Show Coverage
What we do know about all of them is that the styling has been changed slightly but with a big impact. The front grille has been narrowed as have the headlights for a less retro look than the previous generation. The Z/28's headlights look different than the LED halo lenses Chevy teased recently on an image of an SS model.
Around back, Chevy watchers are either jumping for joy or scratching their heads over the revised taillights. The previous-generation Camaro's lights were so popular that Chevy integrated the design into the Malibu, Impala and most shockingly the new Corvette Stingray. Now the Camaro's lights have morphed into thin horizontal bars instead of the twin red-block arrangement.
The interior looks the same as the current Camaro as well, and we expect base and SS models to carryover similar powertrains to the 2013s on sale now.
What about the Z/28 model?
It is meant for the track with a number of unique features setting it apart from street performers like the LS1 and even the 2013 Camaro ZL1 edition that's also for track use. The Z/28 has unique front and rear bumpers for improved track aerodynamics, fender flares and extended rocker panels, a rear spoiler and a functional rear diffuser.
It weighs 300 pounds less than the ZL1, which has a supercharged V-8 under the hood instead of the naturally aspirated 7.0-liter beast in the Z/28, producing 500 hp and 470 pounds-feet of torque. There are also unique induction and exhaust systems.
GM says track time is down a full 3 seconds from the ZL1, thanks to improved grip. The ZL1 had some pretty sticky tires, and the Z/28 goes a step further with 19-inch wheels that lower the center of gravity unlike the 20-inchers on the SS and ZL1. The 19-inch wheels are wrapped in 305/30ZR 19 Pirelli PZero Trofeo R tires, which Chevy says may be the widest tires on the front of a production car. Those tires go for $441 a piece at Tire Rack.
Brakes are Brembo carbon ceramics, and they help hit 1.5 g in deceleration, according to Chevy.
The car is only available with a six-speed manual transmission, and like barebones cars of the past, air conditioning is not standard. It is available as an option if you're not hardcore enough.
We'll have more information on the rest of the Camaro lineup soon.