2014 Dodge Durango: Up Close
The Durango is related to the Jeep Grand Cherokee. Like the 2014 Grand Cherokee, which was also recently updated, the Durango didn't look so bad to begin with. So like the Jeep, the Durango didn't receive too much of a redo.
More 2013 New York Auto Show Coverage
The main move was to bring the rear end in line with the rest of the Dodge family in the form of what Dodge calls racetrack taillights — the LED ring that spans the Durango's width. Good move. Day or night, the Durango is recognizable — a rarity among SUVs. Dodge executed the change in a way that preserves some of the original two-lens styling, yet the new ring is nicely integrated, not forced.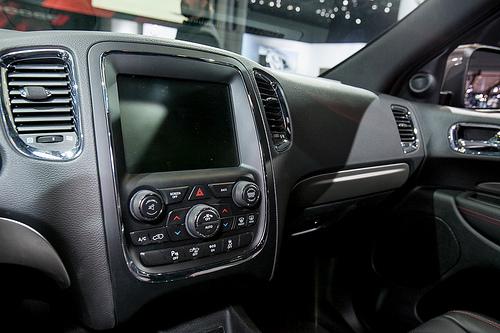 Around front, the raised bumper looks good, as does the floating crosshair grille, another move to unify the Dodge family face. Perhaps it's the auto show lights, but the all-chrome grille on the Citadel trim looks super cheap. I much prefer the dark R/T execution.
The switch to a rotary knob gear selector is brilliant. You don't even have to look at it or any dashboard indicators. Three clicks clockwise and you're in Drive; two back for Reverse. As electronic transmission controls go, this is the best.
The new steering wheel looks and feels good, and I'm thrilled to see the Uconnect 8.4-inch touch-screen in the dashboard. The Chevrolet Traverse, Buick Enclave and GMC Acadia — also recently redesigned — have new touch-screens that are way too small. I think automakers will soon find 8-inch screens to be the bare minimum.