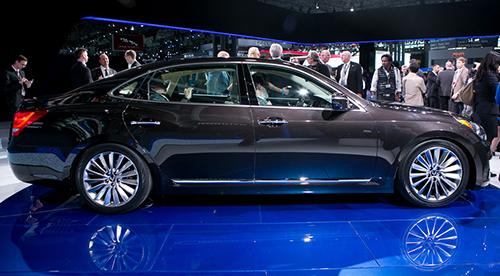 It wouldn't surprise Cars.com reviewer Kelsey Mays if you weren't familiar with Hyundai's low-selling flagship luxury sedan, but you might be surprised by the luxuriousness inside the redesigned 2014 Equus, debuting this week at the 2013 New York International Auto Show. Tech features like new climate controls, a 9.2-inch touch-screen and simulated gauges display Hyundai's desire to compete with BMW and Lexus, and the high-end offerings aren't just reserved for the front seat. Backseat passengers have a pair of 9.2-inch screens of their own, as well as abundant space and a host of individualized comfort features.
More 2013 New York Auto Show Coverage
While the new Equus' luxury upgrades are obvious, its predecessor's powertrain goes unchanged, and you might find reported exterior alterations downright undetectable. Watch the video below and see if you can tell the difference.