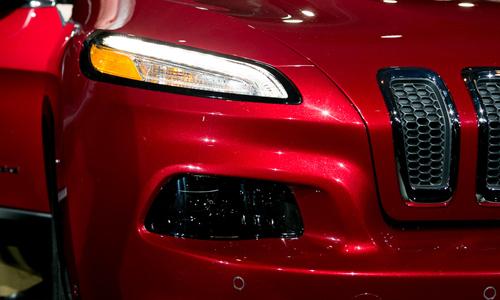 Everyone's been talking about this one since the photos leaked a few weeks ago. It's yet another model that was reflexively labeled "polarizing," which is often code for "ugly." In this case, I can confirm it's legitimately polarizing. Some people, including some vocal Jeep faithful, loathe it — quick to blame it on Jeep's foreign ownership. (The platform was developed by, or at best with, Alfa Romeo, a sister brand under Italy's Fiat.) Other people really like its daring evolution — or let's just call it revolution — of Jeep design. I think I'm ready to commit to being one of them.
More 2013 New York Auto Show Coverage
I got a sneak peek at this thing in progress a few months ago, and I was intrigued but a bit concerned, mainly because of its passing resemblance to the Nissan Juke, which is, ahem, polarizing. Like the Juke, the Cherokee has slit-like high-mounted running lights, and the headlights are lower and larger. However, the Juke's headlights are much larger and accompanied by an erratic collection of elements from the design parts bin.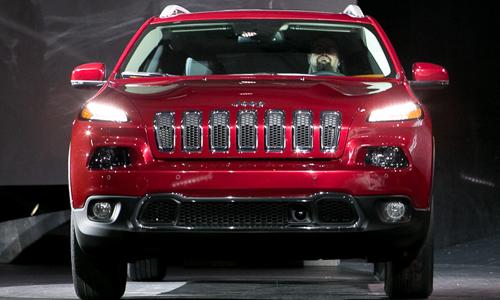 I commented to Jeep brass at the time that I preferred the Cherokee Trailhawk version, whose smoked lenses downplayed the headlights. I am not claiming credit — but would gladly share it if it's offered — for the appearance here of a Cherokee Limited with smoked headlight lenses and dark bezels. This seems a late change, because leaked photos from just a few weeks ago showed chrome and clear lenses.
The rear end is less inspiring (or offensive) because it could be mistaken for any number of other vehicles, such as a dumpier Ford Escape. In fact, the controversial nose might be the only thing to distinguish this SUV, but the same can be said of many vehicles, good and bad. The butched-up Trailhawk version might be an exception thanks to dark lower cladding and bumpers that are shaved to improve the approach and departure angles. They give it a pointier nose and slimmer hindquarters.
The interior quality is good, from what we could tell under the combined glare and shadows of the auto show stage. We'll need to get a second look to evaluate the instrument panel and giant Uconnect touch-screen.
Visibility is pretty good out the front but definitely compromised to the rear because of the high beltline and rear window. The front seats are reasonably roomy, and the backseat is decent but not exceptional for a supposedly midsize five-seat SUV. The rear seats slide forward and back, a welcome feature for apportioning space between passengers and cargo. However, some SUVs with this feature allow backseat legroom to range from very good at one extreme to meager on the other. In the Cherokee, the optimal legroom is merely decent; the feature seems to be better at giving space to the cargo area than to the passengers.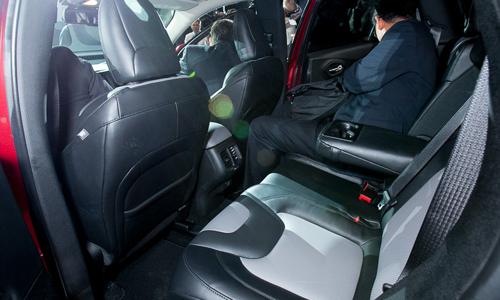 Frankly, I'd like to see more interior room. Jeep already has the compact Compass and Patriot, and this doesn't feel a full size roomier to me. It's definitely not in the cargo department: Though the Cherokee is 7 inches longer than the Compass, it has 49.5 cubic feet of maximum cargo volume. The Compass has 53.6 cubic feet. The Patriot has 53.5.
As for the styling, I support Jeep's daring. The brand's SUVs can't be lightly tweaked boxes and Grand Cherokee clones forever. Anyone who thinks the Cherokee will damage the Jeep brand can relax. If the original Compass didn't ruin Jeep, nothing will.