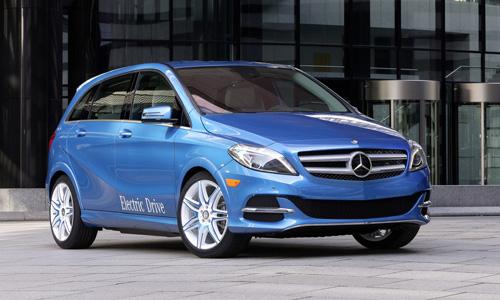 Competes with: Nissan Leaf, Mitsubishi i
Looks like: Europe's B-Class, electrified
Drivetrain: Electric motor capable of 134 hp and 228 pounds-feet of torque and a 28-kwh lithium-ion battery
Hits dealerships: Early 2014
The words "electric vehicle" usually aren't synonymous with luxury. Mercedes-Benz is aiming to change that with the 2014 B-Class Electric Drive. No, this isn't a concept; the brand's first electric car will go on sale in early 2014 and have an estimated driving range of 115 miles.
More 2013 New York Auto Show Coverage
The car might look a little familiar: A non-electric version of the B-Class has been on sale globally for years; model-year 2014 marks the first time it's being offered in the States. A conventionally powered version won't be available in the U.S., however.
Powering the compact hatchback is a 28-kwh lithium-ion battery and 134-hp motor. Mercedes says acceleration will be lively, but quotes a zero-to-60 time of around 10 seconds; its top speed is 100 mph. Using a 240-volt household outlet, the B-Class can be charged to a 60-mile range in about two hours, according to Mercedes. A full charge should yield 115 miles.
The B-Class Electric Drive has room for five occupants; the battery is under the floor, and Mercedes says the B-Class retains the conventional version's amount of "generous" luggage and passenger space. Inside, the B-Class uses a familiar Mercedes air-vent layout: there are three large round vents with cross-form nozzles. Also prominently displayed in the cabin is a power display in the instrument panel. It uses a green-to-red gauge to show when power is being consumed.
Mercedes says vehicle information can also be accessed online using a computer or smartphone app. Owners can remotely check the charge status of the battery, confirm expected range and pre-heat or pre-cool the cabin.
Optional B-Class Electric Drive equipment includes the Comand multimedia system with internet access, navigation and voice control, and safety systems like blind spot warning, active park assist and lane keep assist.