2014 Mitsubishi Mirage: Up Close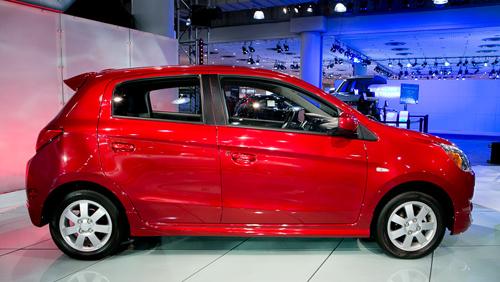 We reported in 2012 that Mitsubishi was undecided on bringing its global Mirage hatchback to the U.S. Well, the Mirage has finally materialized. Pricing is still pending, but Yoichi Yokozawa, president of the automaker's U.S. arm, told reporters Mitsubishi will price the tiny Mirage to compete with the Chevrolet Spark, which starts at $12,995 including destination.
More 2013 New York Auto Show Coverage
A chrome package gussied up the car on display at the New York International Auto Show, but there's little else to describe. The formless bumper leads into equally bland styling around the sides and back. Inside, the front seats have decent adjustment range, but the Mirage's optional knob-style seat height adjuster moves only the bottom cushion, not the whole seat. Crank yours up and the backrest lumbar meets your spine at a lower point. It's not comfortable.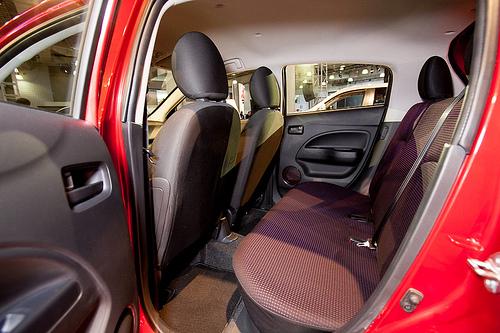 Backseat legroom is snug but manageable, thanks to cushy front seatbacks. I like that Mitsubishi anchored the center seat belt in the seatback — it leaves the view straight back unobstructed — but the Spark's head restraints tuck into their seats. The Mirage's head restraints stick up, encroaching on part of the view. The automaker didn't furnish cargo specs, but the area looks to be as small as the Spark's. Still, the backseat folds simply; the Spark has a multistep process that's more annoying than hearing everyone and their mother obsess over "Downton Abbey."
Standard features read impressively, with automatic climate control, power windows and keyless entry included on the base DE. Mitsubishi plans to offer four out-of-the-box colors beyond the standard black, white and silver. The Spark has odd hues of green and pink that certainly make it stand out.
Like the Spark, the Mirage has rudimentary cabin quality. The elbow cutouts along the doors have no padding whatsoever — a provision the Ford Fiesta, Chevrolet Sonic and other mass-market subcompacts provide — and a center armrest, map lights and a passenger-side visor mirror are MIA. The glove compartment door thuds open; the doors slam with a tinny echo. You get the idea.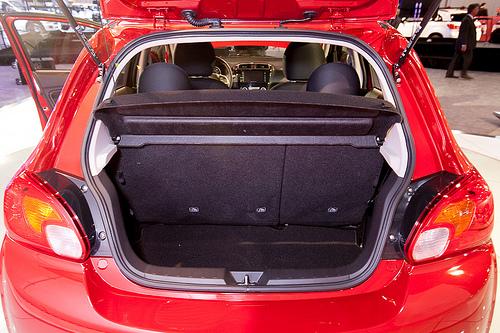 But who cares? Mitsubishi expects EPA gas mileage of 40 mpg combined city/highway on the CVT-equipped car, significantly outpacing subcompact rivals by 5 mpg combined or more. That's no mirage. Mitsubishi announced plans in February to double its marketing efforts, and it will need to. A barrage of car ads have convinced many consumers that 40-mpg compacts are the new normal; read the fine print and that's just the highway EPA mileage — and many cars need special fuel-economy packages to get there. Mitsubishi deserves credit here.