Rolls-Royce Wraith: First Look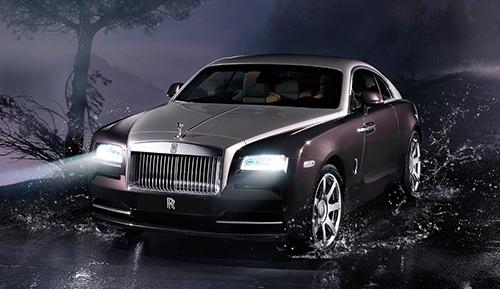 Competes with: Bentley Continental GT, Mercedes-Benz CL600
Looks like: An understated coupe design for an ostentatious vehicle
Drivetrain: 624-hp, twin-turbo 6.6-liter V-12, "Satellite-Aided" eight-speed ZF transmission
Hits dealerships: Late 2013, in Europe
MSRP: 245,000 euros ($319,633 equivalent, US pricing not announced)
The Geneva Motor Show has been receiving a lot of press with the idea that the European auto industry is in a slump, that nobody is buying new cars, and that frugality and smallness are prevailing themes. Yet we've seen a new hyper-Ferrari, a new hyper-Lamborghini and this new Rolls-Royce coupe introduced at the show.
More 2013 Geneva Motor Show Coverage
This is the new Rolls-Royce Wraith, essentially a two-door version of the Ghost sedan, an ultra-luxury fastback coupe that will join the lineup in Europe late this year.
Despite being a massive "gentleman's grand tourer" in Rolls-Royce's words, the new Wraith will be blisteringly fast. A twin-turbo 6.6-liter V-12 is under the hood, churning out 624 horsepower and enabling the car to streak to 60 mph in just 4.4 seconds. A "GPS-enhanced" eight-speed automatic transmission will reportedly read the car's position, direction and speed and then match it with the known road ahead to preselect the appropriate gear. Rolls-Royce calls the technology Satellite Aided Transmission, and it debuts on the Wraith.
The styling is what immediately stands out, with a long sweeping roofline that is frankly reminiscent of the 1948 Chevrolet Fleetline Aero coupe. The driver and passenger doors are hinged at the back. The interior continues the conservative Rolls-Royce shapes found in the Phantom and Ghost, with the addition of a new type of wood that Rolls-Royce calls Canadel Panelling, an open-pore wood theme becoming increasingly common in luxury vehicles. Despite the enormity of the Wraith, there's only seating for four inside, but it is extremely opulent, cosseted seating.
The new Wraith is likely to appeal to current Rolls-Royce owners, according to Richard Vaughan, board member and vice president of communications for the Rolls-Royce Owners Club. "Wraith is the perfect motorcar for the traditional Rolls-Royce owner," Vaughan told Cars.com, "a person who likely already possess several Rolls-Royce or Bentley formal sedans and seeks to have something unique, powerful and sporty for those occasions when simply wafting along won't do."
Starting at 235,000 euros when deliveries start later this year in Europe (that's $319,663, but U.S. pricing hasn't yet been announced), it is sure to remain an uncommon sight, even in the rarified air of cars more expensive than houses. Check out the photo gallery below.